What's On: Conan Hits NYC, HBO's History of Rolling Stone, 'Jeopardy!' Tournament of Champions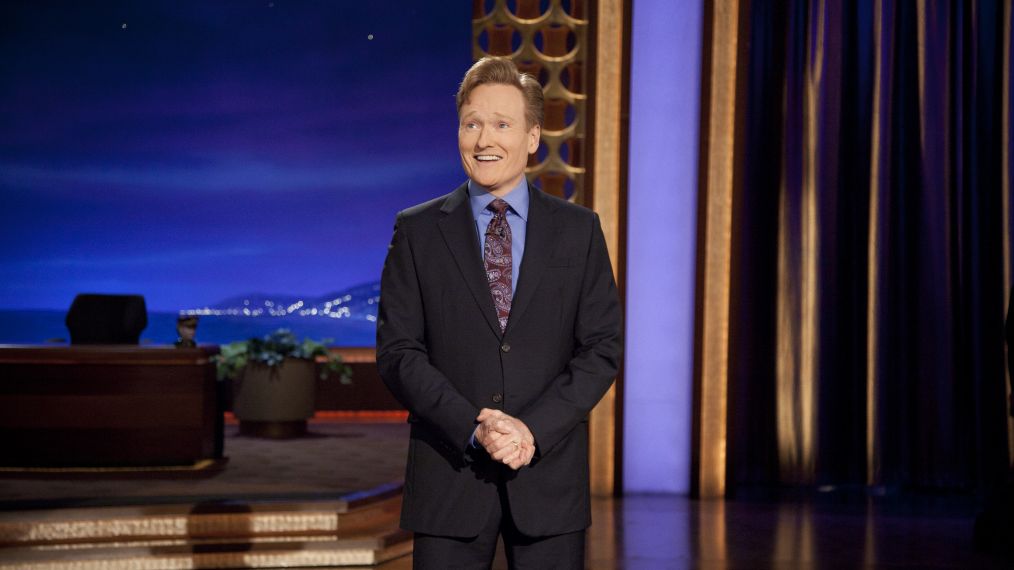 A critical checklist of notable Monday TV:
Conan (11/10c, TBS): Often unfairly marginalized in the discussion of late-night TV comedy, Conan O'Brien relocates to New York City for a week's worth of shows (through Thursday) from Harlem's fabled Apollo Theater. The visit once again coincides with the New York Comedy Festival, so expect plenty of stand-ups to drop by. On Conan's opening night, CBS's Stephen Colbert reaches across the network aisle. Among the week's other special guests: Keegan-Michael Key on Tuesday, President Bill Clinton making his first Conan appearance ever on Wednesday, and the cast of Daddy's Home 2 (Will Farrell, Mark Wahlberg, Mel Gibson and John Lithgow) on Thursday.
Rolling Stone: Stories From the Edge (9/8c, HBO): Over two nights and four hours, Oscar-winning documentarian Alex Gibney (Taxi to the Dark Side) examines the intersection of rock music, politics and popular culture over the last 50 years, as covered by Rolling Stone magazine. Narrated by Jeff Daniels, this tuneful history includes iconic performances by the likes of Bruce Springsteen, John Lennon, Jimi Hendrix, Tina Turner and, yes, The Rolling Stones. While legendary contributors including Hunter Thompson and Annie Leibovitz are celebrated, the special doesn't ignore controversial incidents like the retracted story about campus rape at the University of Virginia.
Chasing Trane (10/9c, PBS, check local listings at pbs.org): Another musical great, influential jazz saxophonist John Coltrane, is remembered 50 years after his death, at age 40, in a biographical portrait that launches a new season of Independent Lens. Writer-director John Scheinfeld makes use of home movies and newly discovered footage, and enlists Denzel Washington to speak Coltrane's words. Interviews include those who worked with Coltrane (Sonny Rollins, McCoy Tyner) and those influenced by him (Common, Wynton Marsalis, Carlos Santana).
Inside Monday TV: TV's greatest quiz show brings back its top players from the last two seasons for a two-week run of Jeopardy! Tournament of Champions (syndicated, check local listings) through Nov. 17. … ABC's Dancing With the Stars (8/7c) invites past winners and finalists (Alfonso Ribeiro, Corbin Bleu, Kristi Yamaguchi, Laurie Hernandez, Rashad Jennings and Season 1's Kelly Monaco) to participate in special trio dances with the six remaining teams. … Looking for Me, Myself & I? CBS has pulled the sitcom from the schedule, replacing it at 9:30/8:30c with the shrill 9JKL (a Big Bang Theory repeat fills the 8:30/7:30c slot until next week, when Matt LeBlanc's sad Man With a Plan returns). … Looking for ABC's The Good Doctor? The hit medical drama takes a week's rest so the network can hype Wednesday's CMA Awards with the special Living Every Day: Luke Bryan (10/9c). Robin Roberts of Good Morning America heads to Nashville to profile the country-music star and his family. … Food Network gears up for the season of sweets with two themed competition series that will be hard not to snack along with: Holiday Baking Championship (9/8c) and Christmas Cookie Challenge (10/9c).