Couples Bare All in Bravo's New Series 'Stripped' (VIDEO)
It's not a competition. There is no cash prize. But even without an incentive, couples couples are literally stripped of everything they own and that means cell phones, computers and, yes, clothes in Bravo's new series, Stripped.
The social experiment, which premieres December 5 on Bravo, takes several pairs of participants and takes away all of their possessions to see if they can live without them for 21 days. The participants are expected to go about their daily lives in terms of work, family and keeping up with the friends. The issues and drama that arise in their relationships from this experiment are captured by cameras for the world to see.
See Also
'All my struggles just make me stronger,' says the reality star about rumors of infidelity in her marriage.
Participants are given a few items—toilet paper and food rations—and they are also allowed to retrieve one item from a storage container (kept a half-mile from their home) that holds all of their stuff and, of course, every choice counts.
Check out this exclusive preview of the upcoming series. And tell us in the comments: Could you do what these people are doing?

Stripped, Series Premiere, Dec. 5, 10/9c, Bravo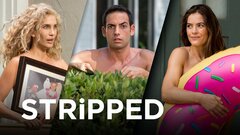 Powered by