'Genius' Season 2: Nat Geo Announces New and Returning Cast
In September, National Geographic announced that film star Antonio Banderas would play art renegade Pablo Picasso in the second outing of its Emmy-nominated anthology series, Genius.
On Thursday, the network revealed the international cast that will join Banderas in Genius Season 2. GLOW star Alex Rich will play the younger Picasso, in keeping with the style of Season 1, which featured Geoffrey Rush and Johnny Flynn as older and younger versions of Albert Einstein.
Additionally, the Harry Potter movie franchise's Clémence Poésy signs on as Francoise Gilot, a French painter and writer whose decade-long affair with Picasso produced two children. The Man in the High Castle's Sebastian Roche plays Emile Gilot, Francoise's ruthless father. Irish actor Robert Sheehan will play Carlos Casagemas, a Spanish art student and poet who was one of Picasso's closest friends. Poppy Delevingne (Kingsman: The Golden Circle) is Marie-Thérèse Walter, Picasso's muse and lover who bore his first daughter. And Game of Thrones' Lyanna Stark, Aisling Franciosi, plays Fernande Olivier, a French artist and model who was the subject of more than 60 Picasso portraits.
Season 2 also features Season 1 cast members in new roles. Flynn will play French actor Alain Cuny. Samantha Colley, a standout as Einstein's first wife Mileva Marić, will play another of Picasso's lovers, the French photographer and painter Dora Maar. T.R. Knight, Season 1's J. Edgar Hoover, returns as Picasso pal Max Jacob. Seth Gabel, Einstein's contemporary Michele Besso, will play Guillaume Apollinaire, the heralded poet and a frequent Picasso collaborator.
See Also
'I'll carry the respect that I have for the men and women who do what they do for me, for you, for all of us to live this incredible life that we get to live,' says Michael Kelly of playing a real-life war hero in National Geographic's 'The Long Road Home.'
Season 1 showrunner/executive producer/writer Ken Biller also returns, along with executive producers Ron Howard and Brian Grazer. And their new subject is an apt one.
Like Einstein, the Spanish-born Picasso — born Pablo Diego Jose Francisco de Paula Juan Nepomuceno Crispin Crispiniano Maria Remedios de la Santisima Trinidad Ruiz Picasso — interpreted the world in nonconformist ways, generating some 50,000 works that expanded the world's perception of art and creativity. Notables include "The Old Guitarist" from his Blue Period, the unnerving "Guernica," inspired by the Nazi bombing of a small Spanish town of the same name, and the "Le Rêve" portrait of Walter.
And also like Einstein, Picasso's passionate nature and relentless creative drive impacted his romantic life and shifting political and personal alliances.
The ten-episode Genius Season 2 begins production this month, filming in cities throughout Europe, leading up to its premiere in 2018.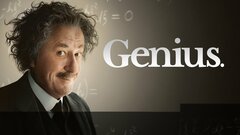 Genius
where to stream
Powered by