Lifetime's 'Flint' Highlights Women Who Spoke Up About Devastating Water Crisis
Betsy Brandt was shaken when she heard the shocking news that Flint's water supply was poisoning its residents. The bankrupt Michigan metropolis, a far cry from its auto industry heyday, is less than an hour away from the former Breaking Bad star's own hometown, Bay City. "It was close to my heart," she says of the crisis, which made headlines when it broke in 2015. "These are my neighbors."
In Flint, Brandt tells their harrowing true story. The hard-hitting movie explores how a group of locals—in the tradition of Karen Silkwood and Erin Brockovich—worked to uncover the truth about the toxic waste being discharged from the town's taps.
"These women didn't intend to become activists," Brandt says, "but they needed to speak up and make sure that change happened where they lived."
The actress plays LeeAnne Walters, a real-life mom who begins her crusade when her children start to suffer: They develop painful rashes after bathing and begin to exhibit behavioral problems consistent with symptoms of lead poisoning. (Marin Ireland and Jill Scott play fellow whistle-blowers Melissa Mays and Nayyirah Shariff, respectively, while Queen Latifah, a producer along with Katie Couric, portrays Iza Banks, a composite character.)
The heroes first head to city council meetings to seek answers about contaminants in the water. "They're brushed off and lied to," Brandt says. But they don't back down. Frustrated, the amateur detectives follow a trail that leads them to the city and state administrators whose shady cost-cutting measures allowed the disaster to develop.
"It's inspiring how LeeAnne and these women stand up to power," Brandt continues. "As a mom, that's just what you do."
Brandt hopes Flint the film brings awareness to Flint the city, which is grappling with the effects of the disaster years later. "They're still working on this," Brandt says. "They're still fighting this battle."
Flint, Premiere, Saturday, Oct. 28, 8/7c, Lifetime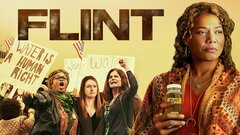 Flint
where to stream
Powered by