What's Worth Watching: 'The Golden Globes', 'Downton Abbey', 'Shameless' and more for Sunday, January 10
The 73rd Annual Golden Globe Awards (8/7c, NBC): Ricky Gervais is back to bedevil Hollywood royalty as host of what's typically the loosest and least predictable of the year's many awards shows. Movie and TV stars commingle in the Beverly Hilton ballroom, where alcohol flows freely, keeping the mood refreshingly spontaneous. As long as FX's Fargo wins again for "limited series," I'll be OK with the rest of the Globes voters' random selections. (Here are my thoughts on who might win.)
Downton Abbey (9/8c, PBS, check local listings at pbs.org): In another satisfying episode of the Masterpiece classic's final season, Mrs. Hughes (Phyllis Logan) puts her foot down about being married in the manor—"I just don't want to have to be a servant on my wedding day"—while Violet (Maggie Smith) and Isobel (Penelope Wilton) face off over control over the local hospital: "There'll be wigs on the green before we're done," declares Isobel. (Let's hope so!) And in the most poignant subplot, Lady Edith's (Laura Carmichael) "Marigold" secret threatens to unravel during a family outing at the annual stock (read: pigs) show.
Sherlock: The Abominable Bride (10/9c, PBS, check local listings at pbs.org): Stay tuned for a replay of the visually dazzling and oh-so-clever New Year's Day movie special that transplants Sherlock Holmes (Benedict Cumberbatch) and Watson (Martin Freeman) back to 1880s London. The whimsically spooky case, involving a murderous ghost bedecked in bridal wear, reveals a larger social message, and that's hardly where the surprises end.
Shameless (9/8c, Showtime): TV's most seriously messed-up family returns for a sixth season, with Frank (William H. Macy) in a state of mourning, though new life apparently is stirring within teenage Debbie (Emma Kenney)—the prospect of which understandably flips Gallagher caretaker Fiona (Emmy Rossum) out.
The Good Wife (9/8c, CBS): The least credible story arc this season involves Peter's (Chris Noth) quixotic run for the presidential nomination, but it has provided juicy moments for his adversarial aides Ruth (Margo Martindale) and Eli (Alan Cumming)—which has us hoping for more fireworks as they all crowd aboard a campaign bus, along with the entire Florrick family, en route to the Iowa Caucuses.
INSIDE SUNDAY TV: CBS's peerless newsmagazine 60 Minutes (7/6) goes inside Russia's main military base in Syria with Bill Whitaker, and Scott Pelley reports on exonerated inmates facing challenges readjusting to life on the outside after years of unjust imprisonment. … Bart is smitten with his new teacher on Fox's The Simpsons (8/7c), and given that her voice is being provided by Modern Family's Sofia Vergara, we understand why. Tune in early for an elaborate 1980s-inspired couch gag reminiscent of Miami Vice, brisker and funnier than anything in Comedy Central's similarly drawn Moonbeam City. … First-person accounts from U.S. Special Operations forces in Afghanistan and Iraq provide the gung-ho narrative for History's Live to Tell (10/9c), from executive producer Peter Berg (Lone Survivor).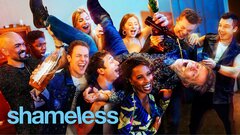 Powered by