'Benson,' 'Soap' Star Robert Guillaume Dead at 89
Emmy-winning actor Robert Guillaume passed away Tuesday at the age of 89, from complications of prostate cancer, his wife Donna Brown Guillaume told the Associated Press.
Guillaume was known for his multiple-Emmy-winning portrayal of Benson DuBois, the wisecracking butler who first appeared in the sitcom Soap from 1977-79, before starring in his own spinoff series, Benson (1979-86), where the character ran the household of a governor's mansion.
Guillaume won an Emmy for Supporting Actor in a Comedy Series for his portrayal of Benson on Soap in 1979, and took home an Emmy as Outstanding Lead Actor in a Comedy Series for Benson in 1985 after being nominated multiple times.
See Also
Gone but not forgotten, these personalities certainly had and impact on television.
Among his other notable television work, Guillaume portrayed abolitionist leader Frederick Douglass in the 1985 miniseries North and South, and starred as a network executive on Aaron Sorkin's Sports Night from 1998-2000. He also headlined the short-lived ABC sitcom The Robert Guillaume Show in 1989.
Guillaume also had a number of big-screen roles to his credit, with perhaps none more memorable than his voicing of Rafiki, the wise old mandrill in the 1994 Disney classic The Lion King. He reprised the role of Rafiki in other direct-to-video Lion King sequels, and received a Grammy Award for Best Spoken Word Album for Children in 1995 for his role as narrator on the Lion King Read-a-long Book.
Benson
where to stream
Powered by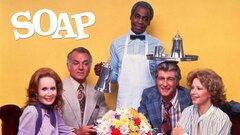 Soap
where to stream
Powered by