Roush Review: 'Mozart in the Jungle' Makes Beautiful Music
When Mozart in the Jungle plays variations on its dominant theme of artistic temperament and passion, Amazon's sophisticated comedy about a New York symphony orchestra can be intoxicating in its originality and seductive charm. This is especially true any time its central character, the mercurial celebrity conductor Rodrigo (an impishly sexy Gael Garcia Bernal), takes the podium in performance or in life.
"We are notes in this beautiful concert of existence," Rodrigo gushes to his uptight orchestra-board chairwoman Gloria (the ageless Bernadette Peters), a former singer who's shy about sharing her gift in public. "If we don't play ourselves, nobody will," he insists. Sure enough, when Gloria gets up the nerve to participate in a small club's open mic night; sure that nobody she knows will be listening—naturally, she's wrong—her sultry rendition of "Come On-a My House" is glamorously, romantically affirming.
RELATED: Read All Roush Reviews of New Shows
As with any fine orchestra, Mozart's second season takes a while warming up. Though the half-hour episodes fly by, the binge begins to feel a bit weightless and insubstantial in the scattershot first half of the 10-episode run. I began to pine for the days when we were still being introduced to the colorful members of the ensemble through the coquettish eyes of Hailey (a refreshingly unaffected Lola Kirke), a 26-year-old aspiring oboe player who nurses her ambitions while acting as assistant to the impetuous Rodrigo—whose adorable mispronunciation of her name sounds like "jai alai."
When Rodrigo complains, "The orchestra lacks cohesion," he could be talking about the show's initial fits and starts. The focus shifts uneasily between subplots about the musicians' tense contract negotiations, with strike rumors rattling the maestro's composure, and more conventional rom-com vignettes about Hailey's timorous coming of age, as she learns to assert herself in the workplace and become comfortable hanging out amid dazzling classical A-listers enjoying themselves in offbeat cameos. (If you ever yearned to see pianist Lang Lang engage violinist Joshua Bell in a heated ping-pong match, this is your show.)
RELATED: More New Shows Premiering in Winter
Be patient with Mozart, because the series hits its stride at the midpoint, when Rodrigo takes his orchestra "family" on a sensual odyssey to his Mexico homeland during an eventful Latin American concert tour that ends where his life began, in Mexico City. There's a euphoric harmony of adventure, romance and, of course, music in these episodes, and the afterglow continues through the rest of the season, with the stakes higher than ever for the conductor, who experiences a crisis of confidence—he sees it as a curse—while his beloved players clash with a divisive management.
Everyone seems to be having a grand time bringing this rarefied world to life, including Malcolm McDowell as the orchestra's former conductor, who now fancies himself a composer; Gretchen Mol as a tough labor lawyer who mixes business and pleasure with stunning cellist/union rep Saffron Burrows; Dermot Mulroney as a swaggering cello soloist; Debra Monk as the first-chair oboist who relishes being Hailey's most feared frenemy; and Jason Schwartzman, one of the show's executive producers, as a compulsive podcaster.
Mozart is something of a family affair, with Schwartzman and cousin Roman Coppola sharing exec-producer credits (along with Paul Weitz), and casting their great-uncle Anton Coppola in one of the season's most indelible detours. He plays an oboe legend—they apparently exist‑who meets Hailey and urges her to emerge from her timid cocoon: "Be a prima donna!" By the end of the season, she's well on her way to diva-hood, earning the maestro's respect as well as affection. I hope this isn't the last we'll see of all of their stories, not to mention those magnificent melodies.
Mozart in the Jungle premieres Wednesday, Dec. 30, on Amazon Prime
---
Questions? Ask Critic Matt Roush!
TV critic (and occasional TV therapist) Matt Roush answers viewer questions and concerns in his Ask Matt column each week. Wondering about plots, characters and twists on your fave shows? Submit your query to Matt via the form below: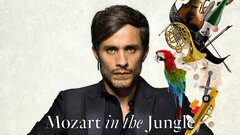 Powered by