Newcomer Toni Topaz Will Shake Up Bughead In 'Riverdale' Season 2
At the end of Riverdale's first season, Jughead and Betty's yin-yang romance had skidded into fragile territory. With his father facing extensive jail time, Jughead was forced to leave Riverdale High and relocate to the Southside, where the lure of F.P.'s Serpent legacy lay waiting for the taking.
Two episodes into Season 2, it seems Jughead is staving off those dark temptations for now, but if there's any merit to showrunner Roberto Aguirre-Sacasa's heavy hinting, Bughead may have another hurdle to weather yet: Toni Topaz, a pink-haired pot-stirrer who's the first to befriend Jughead at his new school. The series' team is staying coy about how big a threat the character will pose, but Vanessa Morgan (The Shannara Chronicles)—who makes her debut as Toni in episode three—says she'll certainly stir up some trouble.
"I will say that you will see a lot of Southside this season, and there are going to be a lot of fights and other things going down," Morgan tells TV Insider. "Toni is kind of a boss. She hangs out with all of these tough guys all the time … In my head, she's kind of the brains. She has a lot of respect within her friend group."
The Southside Serpents are coming. Watch out, #Riverdale High. 🐍 pic.twitter.com/ZUPSyQvlpx

— Archie Comics (@ArchieComics) September 29, 2017
As for any potential love triangle, Morgan remains tight-lipped about details, but admits that Jughead and Toni share common ground. "That's what people are saying, and [the love triangle is] a possibility," she says. "Toni is super artistic. She's into photography. She's a bit of an outcast herself, and I think Jughead feels the same with not fitting in completely. So I think they're drawn to each other because of [that contrast] between the haves and have-nots, and because they both [have ties to the] Serpents."
Of course, it's also possible Riverdale will look elsewhere for Toni's love interests—she'll be the first bisexual character on the show—but from the sounds of it, it seems like just a matter of time before a Toni-Jughead shake-up will threaten Riverdale's strongest couple.
Riverdale, Wednesdays, 8/7c, The CW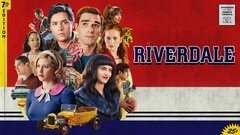 Powered by