'The Real Housewives of Beverlly Hills': Erika Girardi on on Her Double Life
Over the years, we've been introduced to plenty of women on The Real Housewives of Beverly Hills who could be described as two-faced. But new addition Erika Girardi is perhaps the first one who actually has dual personas. By day, the 44-year-old is a well-heeled homemaker and the wife of L.A. trial lawyer Tom Girardi, 76. By night, she hits the club circuit to perform chart-topping dance numbers as her larger-than-life alter ego, Erika Jayne. Here, she offers a preview of the double trouble.
How different are Erika Girardi and Erika Jayne?
I'm like everyone else during the day. I try to keep my house running smoothly. You'll see me taking care of the dog, putting my husband's clothes together—we recently lost a big tree in our garden, things like that. At night, I get to be this over-the-top, risqué creature. That's really where I feel the most connected to my creative soul.
Do people make assumptions about your marriage based on the age gap?
If someone would like to make the assumption that we couldn't have anything in common, that's all too easy. But we've been married for almost 16 years—and if you spend five minutes with us, you'll see that we're friends, we love each other and we see life the same way.
RELATED: Kim Fields on the Insanity of The Real Housewives of Atlanta
The only cast member you knew previously was Yolanda Foster. Did she have any advice for you on joining the fray?
She said, "Erika, get in there and figure it out for yourself." It's my nature to stand back and watch people unfold, and I think I did that. I saw who was being friendly and who wasn't.
What will press your buttons this season?
It's not one thing. It's usually a perfect storm of events. It can be personalities, the topic of conversation, the length of that conversation—sometimes just frustration from being exhausted. I had some moments where I had to check myself. I walked away, sat at home alone and said, "Erika, that was not the best version of you."
The Real Housewives of Beverly Hills, Tuesday, Dec. 22, 9/8c, Bravo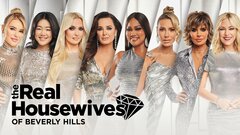 Powered by