Kim Fields Embraces the Insanity on 'The Real Housewives of Atlanta'
Kim Fields is no stranger to girly drama on TV. From 1979 to 1988, she played adolescent spitfire Tootie Ramsey on The Facts of Life, NBC's classic sitcom about the highs and lows of growing up at an all-female boarding school. Then she spent four years as the gossipy, materialistic Regine Hunter on the Fox comedy Living Single. But all that experience pales in comparison to her latest undertaking, now that the 46-year-old actor/director is joining the notorious ranks of The Real Housewives of Atlanta, Bravo's cutthroat docuseries about a group of mercurial women with egos that bruise easier than a Georgia peach. Here, as she's poised to enter the wine-tossing, weave-pulling fray (she makes her debut on the November 15 episode), Fields reveals her survival plan.
You've been living in the ATL since 2009. What went through your head when you were asked to be a Housewife?
I can hardly remember! There's so much going on in this world, I have trouble just remembering my kids' names [Sebastian, 8, and Quincy, 11 months]. But I was really intrigued by how Internet rumors had me hired—and fired—before anything was really popping off officially!
Did you have any concerns about switching over to reality TV after spending most of your career as an actor and director?
I've been approached to be in the reality space for the past seven years, and I always passed. Either the timing wasn't right, or the commitment wasn't something I wanted. When this came up and Bravo said they wanted to be in the Kim Fields business, I figured, "If I'm going to go into uncharted waters, then why not do it in the Atlantic Ocean?" If I'm going to be on a reality stage, then I want to get on the biggest stage, which this is.
Your castmates—Cynthia Bailey, Kandi Burruss, Kenya Moore, Phaedra Parks and Porsha Williams, plus Housewife "friends" Sheree Whitfield and newbie Shamea Morton—don't exactly have a rep for playing well with others. What are you bringing to the mix?
The role I'm finding myself in is either peacekeeper or the voice of reason. I want to present myself as a female with a strong marriage [to actor Christopher Morgan] and family, with faith at its core. We're not perfect—far from it—but we're healthy. I'm trying to bring some light so that everything doesn't feel like an HDR—"heavy, deep and real."
Did the ladies welcome you with open arms?
I realize that my reputation precedes me. I've been in the public eye for 40 years—people either grew up with me or watched me grow up, so there was a great deal of familiarity going into this. I definitely felt respected, and I didn't feel like I had to prove myself, which I'm sure can be a factor when somebody new comes into this circle.
Anyone in particular you've bonded with?
Phaedra and I connected right away. We have a great deal in common, like our faith, and similar agendas about our careers and how to raise sons, especially African-American boys. There's nobody that I'm clashing with. Even if we don't have anything in common—like me and Porsha—I'll start finding things.
How up to speed were you on all the preexisting alliances and beefs?
I wasn't. I knew who the women were from the standpoint of being public figures, but I'm a mom—unless it's on Nick Jr. or Nat Geo, it's not on my entertainment landscape! So I didn't go into this with any sort of history or preconceived notions. I had a completely clean slate, which I think serves me well, because as I'm getting downloaded, my reactions are very genuine.
Do you ever get drawn into the squabbling?
In this environment, you have to know your constitution, because you will be tried and tested. In the promo that's been airing, I say, "Are we grown-ass women talking like this?" That's about all you're gonna get from me. I'm not going to come for you and call you out. When I have gotten frustrated, I disengage. I'll say, "Hold on, I need to recharge my batteries, because you just drained me spiritually." I'm not going to let anyone else infect my spirit.
What's the biggest challenge you'll face this season?
I go through some self-realization. I've gotten so caught up in being a wife, mom and career woman that Kimmy has gotten lost in the shuffle. She got put in the guest room for quite a while, and now that she's coming out, it's like, "Who are you? What are you going to be about?"
How does your husband feel about going under the microscope?
We were in lockstep with our hesitations about protecting our children and preserving our marriage. But he welcomed me getting out and being more social. It was like he was nudging the chickadee out of the nest. Before this, I probably hadn't gotten my nails done in six or seven years. Chris was like, "Your idea of a shopping spree is buying a robe. Please go make friends."
You've done some singing in the past. Does that mean you'll follow the great Housewife tradition of dropping a single?
That's not gonna happen! I have done some singing in my distant past, and I can carry a tune, but I'm a spoken-word artist. Andy Cohen would have to give me all the rights to all his books first. That reminds me: The ladies and I go on a trip this season, and Bravo wanted to know beforehand if I would be wearing a thong. I told them that there's not enough money in the world to unleash this fabulousness!
What do you think your Facts of Life den mother, Edna Garrett, would make of this wacky world you're entering?
Ha! I have no idea—she hasn't been written for in 75 years. I couldn't begin to tell you what she would say.
The Real Housewives of Atlanta, Sundays, 8/7c, Bravo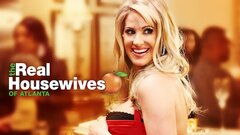 Powered by