TLC's 'Married by Mom and Dad' Gives Parents a Chance to Play Matchmaker (VIDEO)
https://player.waywire.com/?id=K95CQM3QP6QHP4Z0
They say everything old is new again, and apparently that includes the ancient art of arranged marriages over at TLC.
The network that has already gifted us with the antibiotic-resistant Here Comes Honey Boo Boo and the criminally affectionate Duggar family is ready to crack open a new unscripted exploration of society's saddest nooks and crannies with Married by Mom and Dad. The docu-series, which premieres this Sunday at 9:30/8:30c, showcases singletons who are so unlucky in love that they've gone past settling and straight to letting their folks play matchmaker for them. It's like Tinder meets the neighboring village.
In this clip, the parents of a 34-year-old nurse (who should really know better) endure a painfully awkward lunch/sizing-up session with a gentleman seemingly inspired by the fashion choices of failed pop singer Lou Bega. And because shame is not required for reality TV, none of them appear to realize that interviewing for the position of a stranger's husband is a terrible idea.
We're already looking forward to the inevitable spinoff, Divorced by Our First Anniversary, sometime next season.
Married by Mom and Dad, Series premiere, Sunday, Dec. 13, 2015, 9:30/8:30c, TLC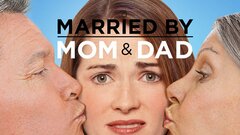 Powered by