First Look: Have Mercy! Bob Saget Joins John Stamos on 'Grandfathered' (PHOTO)
It's a full house on the January 12 episode of the Fox comedy as John Stamos reunites with former costar Bob Saget.
After Jimmy (Stamos, right) fears he's lost his edge since becoming a grandpa, he reconnects with his old friend Ronnie (Saget) to recapture his youthful energy. We spoke to Stamos about working alongside his on and off-screen pal.
How did you get Bob involved in this episode?
We wanted to have a moment where Jimmy feels like he's lost his edge and turned into an old fuddy-duddy grandpa, so one of his old buddies comes back from the past. And when [the writers] were pitching me this story, I said, "What about Saget?" And they said, "Oh my God, that's a great idea!" It was a great opportunity to act with him not as our Full House characters, but as Jimmy and his old friend.

But Bob also made a cameo in the pilot. Is this the same character?
[Laughs] I thought about that. Who knows? I think he was Bob Saget in the pilot and he wore different glasses for this character, Ronnie.
How would you describe Ronnie and Jimmy's friendship?
Certainly not like Jesse and Danny, but honestly, it's like Bob and I, but grown up. There were a lot of grown-up exchanges with us. It was a different kind of comedy than we'd ever done before because we really had just done live stuff, Full House and benefits. But to really act in a single camera comedy setting, it was nice. It felt like we were acting together, versus just goofing off. Bob's really been impressing me with his acting. I just saw him on Broadway in Hand to God, and he's really gotten quite good. He's very settled into who he is, without being dirty. He's really grown as an actor, so we got to play some really nice moments that he and I have never really done on television.
What's it like behind the scenes when you and Bob are working together? Is there an unspoken chemistry?
Well, it's usually spoken and it's me telling him to shut up, not talk so much and focus. [Laughs] One thing hasn't changed with the two of us. Even on Full House, him and Dave [Coulier] loved making the crew laugh. They love goofing around on the set. I like it, too, but I like to put that energy into the work. That's been our same dynamic forever: him playing around with the crew and me going, "Come on, let's get the scene done!" Because this is my new home, and it's nice to have him in it and meet all the actors on this show, and the crew. Everybody loved him. He was delightful. It's interesting to work with him 20, 25 years later.
Is it possible for him to recur on the show?
Because he hits on Paget [Brewster's] character, we thought he might come back and do something with her. Not this season, but hopefully next.
You've now had Bob and Dave on Grandfathered. Would you like to see more Full House stars come play?
The key to getting a good guest star on a show isn't always to get the biggest star. It's to get the star who is going to be interesting with the players on the show. Some of the biggest stars on the planet will do guest spots and it doesn't pop, but it does if you get the right combination together where it really means something; you dig into the person's past. For years, people were so afraid of being nostalgic and going backwards. It was all about moving forward and doing something different. But for me, I love nostalgia. The bottom line is, I'm not doing this for my health. I want to keep this show on the air. If people want to see me with a couple Full House friends, we're going to give it to them because we love the show and we want people to watch it.
[jwplatform MohczQ5Q]
Grandfathered, Tuesday, Jan. 12, 2015, 8:30/7:30c, FOX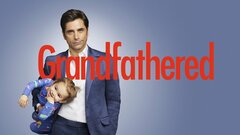 Powered by