'Nashville' Star Chris Carmack Talks His New Solo Music and if Will Lexington Can Find Happiness
Will Lexington's stage career might be dead, but Chris Carmack's is just beginning. This Friday, the Nashville star will release his first EP, Pieces of You, a 5-song collection of soulful country warmth. Meanwhile, on Nashville's fall finale airing this Wednesday at 10/9c on ABC, his character Will continues to search for his place in the country music industry as an out gay man. Here, Carmack fills us in on Will's struggles and his own big leap of faith.
So what made you decide to release your own music?
I've been doing music for a long time and performing these songs for a long time, actually. Being a part of the program Nashville and performing so much on soundtracks gave me the confidence to go into the studio and record some of my own music.
How long have you been playing? Were you doing it all the way back when you were on The O.C.?
I was, actually. I started doing music when I was a little kid. I started playing saxophone when I was probably 8 or 9 years old, and then I played all the way through high school and did jazz band. I picked up the guitar in high school, started playing blues guitar. When I was on The O.C., I was studying blues guitar and actually playing with a local blues artist, and he kind of took me under his wing and tutored me. On set, we had a fun little band we called Jimmy's Apartment because we jammed in Jimmy's apartment during lunch.
How is your sound different from Will's?
Will has been, up until now, a very pop country sound. He's shooting for the charts. He's listening to what's current and what's hot and trying to replicate those sounds and replicate that style. But I would say when I'm looking to do music, I'm not necessarily looking at what's current, what's now, what's hot. I really am just trying to make some good music that hopefully will last. A lot of people have tracks and beats mixed into their records these days. I don't have any of that. It's all just live sounds and live musicians, and I'm just trying to honor a tradition of music that I've loved over the years.
Do you worry that people will have difficulty differentiating you from the character?
Not really [Laughs]. I don't worry about it because I don't think it's a problem. I think audiences these days are savvy enough to know the difference. Particularly through social media, people can grasp that you're this other person, not just this character. In fact, fans often gravitate more towards you as a person and want to know what you're doing as a person. And if somebody doesn't grasp the difference, Will Lexington's pretty cool, too. When I go out and perform live music, I'm not trying to distance myself from Will. I have very different taste than Will Lexington. I have very different influences. But when I go out and perform a live show, I'm going to play some Will Lexington songs, and I'm going to play some of my own songs and do a few covers as well. So I really embrace the character and the influence he's had on me.
Have you written any of your music on the show?
Not really. Writing for the show is its own kind of quagmire because a song has to not only be right for a character, it has to be right for the circumstance, and there is no telling what that circumstance is going to be. So in many ways, I feel like writing for the show would be chasing your tail. Some of the actors have had their music on the show. Chip [Esten]'s had a song on the show, Jonathan [Jackson]'s had a song on the show. I think they had a song that our music supervisors heard and realized would be great in a particular situation.
Historically, the music industry hasn't always been friendly to actors turned musicians.
I hear you!
Are you finding the country music industry welcoming?
I can't tell you the surprise I have for how welcoming the country music community has been to us musically. I am very familiar with the context of actors being ridiculed for going into music. Now, I've always been a musician. I've always considered myself a musician, and I've never had any doubts about that. It's not just something I'm trying. It's something I've been doing my whole life. But it's because of that, that I have kept my music a secret for so very long. People would always tell me, "You should record an album!" And I'd always say, "I don't just want to be another a–hole actor who puts out an album." [But] the country music community has been so warm to us in giving us so many opportunities to perform alongside current charting country acts and record in studios with these great musicians and great producers. It's through that experience that I really gained the confidence to say, you know what, I can put out some stuff… I'm not trying to compete with current country music, but I can put out some stuff that I think is just as good, that I think is quality and I can be proud of.
Let's talk a bit about the show, which is airing its fall finale tomorrow night. Is Will going to regret letting Wade Cole record his song?
[Laughs] Yeah, there's not much about working with Wade Cole that Will is not going to regret.
Is Will ever going to just be chill about being gay?
I really think Will has grown into a place where he's very comfortable with his identity as a gay man. Now, in terms of being comfortable [beyond that], I don't know that he ever had that opportunity. Here he was coming out in a big way, and he spent a little bit of time in a private relationship with Kevin Bicks that was great, except he was dumped from his tour and from his record label. So he's lamenting that, but he's in a comfortable, wonderful relationship. Then that falls apart, and also during that, Kevin Bicks' friends come over for this songwriting session and they're saying, "You have a responsibility. You have a microphone. You need to be our voice."
For Will Lexington's sake, you just want to be like, "Hey, can I get a minute? Can I just get a minute?" So I do think he's growing into his own skin and he's comfortable with himself, but now he's having to deal with this whole new thing, this sort of social responsibility that's been thrust upon him. I think Will's a great man, and I think he's going to live up to other people's expectations and grow into a spectacular leader and voice. But for the moment, can a brother just get a minute? [Laughs].
What's it going to take for him to just be happy?
Oh man, what does it take for any of us to be happy? [Laughs]. Shoot, for somebody who's trying to do what they love and [is] not where they want to be in their career and [is] not who they want to be with, there's a lot for Will Lexington to be unhappy about, [other] than just his identity and his difficulties with that.
Just wondering, have you ever met Shane McAnally? There seem to be some clear similarities between him and Will.
I have, yeah.
What does he think of it? Have you discussed the part?
We have not discussed the part. That's just an odd thing. If he wanted to talk to me about it, I'd feel comfortable if it came up. But I didn't want to just walk up to somebody and be like, "So… I hear you're gay. What do you think about my role?" [Laughs]. I've had several gay artists and/or songwriters come up to me and express their opinion about their part and their support of the part and oftentimes, appreciation that I'm playing the role. But I let them bring that up. I'm not the guy steering that conversation. Could you imagine? What if that conversation doesn't go well. What if I ask that question and they're like, "I feel like you're really misrepresenting everything, and your storyline sucks." Like, "Oh. Sorry, Shane!"
"Okay, talk to you later!"
"My bad!"
Where do you see Will's story going for the second half of this season?
Well, he's really exploring himself for the first time as a songwriter and as somebody who has something to say, and he's finding what it is he has to say. He's digging into himself and sort of excavating those details of who he is as a person and bringing them up to the surface. He's, for the first time, doing the work. He's doing the work a human being is meant to do to have a meaningful journey on this earth. And I think it's going to affect his music. It's going to affect who he is, and it may realign some of his expectations and dreams, as well. Who knows what's going to happen when Will starts looking inside? But I think we're going to find a more fulfilled person in there.
Nashville's fall finale airs Wednesday, Dec. 9 at 10/9c on ABC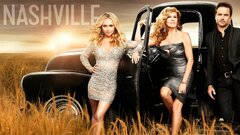 Powered by