Watch My Show: 'Neon Joe, Werewolf Hunter's Jon Glaser on Mixing Horror With Stupidity
Nothing says "Five-Day Holiday TV Special Event" like a limited-run series about a man who wears neon and hunts werewolves.
That's the premise behind Jon Glaser's Neon Joe, Werewolf Hunter, airing nightly at midnight/11c this week on Adult Swim. Glaser, probably best known as obnoxious Councilman Jamm on Parks and Recreation, stars as "Neon Joe," who must save the sleepy town of Garrity, Vt., when werewolves strike.
Scott Adsit (30 Rock), Stephanie March (Law & Order: SVU), Steve Little (Eastbound and Down) and Steve Cirbus (Delocated) also star. Glaser, whose writing credits also include Inside Amy Schumer, Delocated and Late Night with Conan O'Brien, filled out our showrunner survey to explain why Neon should light up our television sets.
I've got room in my life to watch just one more show. Tell me why it should be yours.
Glaser: Because it's the only show on television featuring a guy wearing neon who hunts werewolves.
Who should be watching?
Anyone who likes the horror genre with a strong dash of stupidity.
What happens if we don't watch your show?
Then you will not be able to talk about it with your friends who will all be watching.
What's the best thing anyone has said or written about your show?
"Sounds pretty stupid."
What's the worst thing?
"Sounds pretty stupid."
Who was right?
Both.
What's an alternate title for your show?
It Happened One Full Beaver Moon
Give us an equation for your show.
American Werewolf In London meets Jaws meets Escape From New York meets the color neon.
Come up with a premise for the spin-off.
Neon Joe retires to Key West, in a show called Neon Joe, Hang Hunter.
What credit of yours would you prefer we forget?
Glaser: I'd prefer you remember all of them.
Tell me one thing about your cast.
They are supremely talented.
What other series would you most like to be an executive producer on?
America's Funniest Home Videos.
Let's scare the network. Tell us an idea that didn't make it on to the screen.
When Scott Adsit's character had sex with my character's empty eye socket. I don't think that will scare the network, though, they'll probably be disappointed it wasn't in the show.
Finish this sentence: "If you like _______, you'll love our show."
Neon, werewolves, and being thoroughly and enjoyably annoyed while watching television,
Pick another show, any show, to start a fake feud with.
Premier League Goal Zone.
What other show would you like to do a cross-over episode with—and how would that go?
Tour De France coverage, just so Neon Joe could interact and call the race with Phil Liggett and Paul Sherwen.
How will your show change the face of TV as we know it?
Hopefully it'll open things up for more characters to wear neon.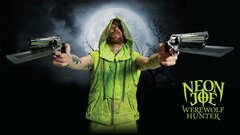 Powered by