'The Flash'-'Arrow' Crossover: Exec Producers and Teddy Sears on 3 Big 'Legends of Today' Bombshells
Spoiler alert! If you haven't watched tonight's episode of The Flash, do not continue reading.
Executive producers Andrew Kreisberg and Greg Berlanti, plus Teddy Sears (who plays Earth 2 speedster Jay Garrick), broke down a few key moments from the first hour of the Flash-Arrow crossover:
Oliver now suspects his son with an ex is actually alive.
The Flash dropped the mother of all bombshells on Arrow's Oliver (Stephen Amell) in the final moments of "Legends of Today": Oliver saw his ex-fling, Samantha (Anna Hopkins)…with her son. (Years ago, Oliver's mother paid off Samantha to tell Oliver she lost their child; Samantha complied.)
"Anna's very talented and has lots of opportunities, and she really [put faith in] us when we said, 'Hey, you do one scene for us…and we promise in two years we will make this a real part and have it really be part of the show,'" executive producer Andrew Kreisberg said after a recent screening of the crossover. "And to her credit, because she's an amazing person, she said yes."
Now that Oliver is aware Samantha has a son around the same age their child would have been if she hadn't lied about the miscarriage, the ramifications will play out. "It's obviously a very emotional storyline," executive producer Greg Berlanti acknowledged. "It was nice to pay off, especially watching Stephen do a lot of the work that he did…It was really exciting for all of us to see."
Jay managed to save Harrison Wells (Tom Cavanagh) from a bullet.
Patty (Shantel VanSanten) shot Wells—after thinking he was reaching for a gun during their confrontation—and Jay was needed to save his life. Unfortunately for Jay, in order to accomplish that, he had to take a dose of Velocity 6, a drug Wells developed to increase Barry's (Grant Gustin) speed. The hit of Velocity 6 was enough for Jay to, temporarily, regain his speed and maneuver a bullet out of Wells' body.
But this step won't completely change the relationship shared by the two men from Earth 2. "Jay is still very dubious of Wells and the carnage he's created on Earth 2; just knowing he's behind the particle accelerator explosion [is a huge deal]," Sears said. "[But] there is a growing understanding and respect. There is a nice—I don't want to call it a shift—but these two will begin to work side by side, as members of Team S.T.A.R. Labs, going forward and fighting metahumans. They're not going to be buddies or great friends, but something does happen for the good after that."
As much as Jay might miss his speedster powers, the hit of Velocity 6 won't change the way he goes about on Earth 1. "He's not jonesing for a fix or anything," Sears said. "But I think he's aware of the potential Velocity 6 has on his life…I also think he's clear: 'I don't want to go down that path.' But I think like anyone who has seen the other side, there are haunting memories of what could be, and what could have been. "
Patty learned the truth about Earth 2 Harrison…but not about Barry.
Patty firmly established herself as part of Joe's (Jesse L. Martin) metahuman task force, but he kept a few vital things from her: Barry is the Flash, and that Harrison Wells from Earth 2 is wandering around on our Earth. Now that the Wells cat is out of the bag, Barry will have to figure out where to go from here.
"I think a little bit of Barry's storyline this year is Patty. Can he actually have a relationship with somebody, and what does having a relationship with somebody mean?" Kreisberg said. "And you see it moving forward, especially with Barry's interactions with Iris, where Iris is telling him, 'You know, I'm telling you as your friend that the way you handled things last year was terrible, and you caused a lot of unnecessary hurt, and you caused people to be in danger. You have to do things differently if you really care about this girl.'"
But Iris isn't the only one weighing in. "On the other hand, he has this new version of Wells, ironically, telling him: 'You know, if you really care about this person, you keep her as far away from all of this as possible, because if Zoom finds out, he'll kill her,'" Kreisberg noted. "So, you know, Barry is really wrestling with those two things moving forward. But Shantel is amazing, and I think just like with Iris last year, it's like Patty doesn't need any help getting into trouble; she loves the metahumans and she loves the danger and she loves the science of it all, so in some ways, she's being presented as the perfect girl for Barry Allen. So what's it going to take for him to let her in?"
Plus: A teaser about another Flash two-part episode next year.
"There's a two-part episode, 13 and 14, which I think is definitely the most fun pair of episodes that we've ever done," Kreisberg said. "And [it] has my favorite Cisco moment in the history of the series so far."
The Flash–Arrow crossover continues Wednesday at 8/7c on The CW.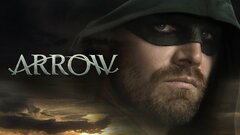 Arrow
where to stream
Powered by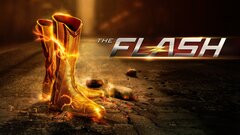 Powered by