President Obama Goes 'Running Wild with Bear Grylls' in Alaska and Makes a 'Killer S'more'
Bear meets "the Bear." President Barack Obama—whose aides call his unscheduled walks "the Bear gets loose"—heads to the Alaskan wilderness on the December 17 episode of NBC's Running Wild With Bear Grylls.
The producers of the adventure series are used to fielding requests from actors eager to eat fish eyeballs or jump from helicopters with the British survivalist host. But getting a call from the White House revealing that President Obama was a fan and wanted to do an episode was a huge surprise—and an even bigger challenge.
No stranger to using entertainment to push his message, Obama hoped to combine a scheduled trip to Alaska for a climate-change conference with a visit to the Exit Glacier in the Kenai Fjords National Park, accompanied by Grylls and his cameras. "Bear and the president agree that we need people to think about the importance of the natural world around us," executive producer Chris Grant says.
Of course, when the president goes on an adventure, certain rules apply. Feeding on insects was not on the itinerary, nor were any dangerous stunts. "We had to work with their safety requirements," says executive producer Viki Cacciatore. Ensuring the commander-in-chief's safety required a small army attached to the production, including Secret Service, sniper teams and "the meat blanket," an agent designated to throw himself on the president to protect him if necessary. "It was a little strange initially having 50 Secret Service [agents], helicopters and snipers around, but he was so genuine and family-centered and honest about his struggles that I almost forgot I was with the president of the United States," Grylls says. "We had some very honest and open conversations about family, doubts and faith."
In the episode, airing on the heels of the early December international climate-change summit in Paris, Grylls and Obama also hike the Exit Glacier, one of Alaska's fastest receding. "We talked about the need to protect the world's great wilderness," Grylls says. The president also got a taste of what makes Running Wild famous. "I taught him how to survive bear attacks, how to light a fire [with flint and steel] and how to cook salmon already half chewed by a bear," Grylls reports. "Then he made me a killer s'more, which was a treat indeed."
Running Wild With Bear Grylls, Thursday, Dec. .17, 10/9c, NBC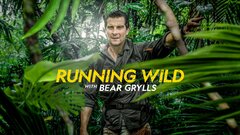 Powered by