'Gotham' Death: [Spoiler] Tells Us Why He Didn't Survive the Fall Finale
And another one bites the dust.
For those of you who just watched the fall finale of what we like to call The Young Jim Gordon Chronicles, you saw the demise of yet another key player in the season's "Rise of the Villains" arc. Following months of menacing the city with his whip-lashing sister Tabitha (Jessica Lucas), clashing with Gordon (Ben McKenzie) and plotting to sacrifice Bruce Wayne (David Mazouz) for his family's creepy Order of St. Dumas cult, dastardly Theo Galavan met a grisly end at the business end of Penguin's umbrella…after being shot by Gordon, no less.
Still, according to actor James Frain, even that might not keep this bad man down—especially now that we know Jurassic World's B.D. Wong is coming to town in 2016 as Professor Strange, the doctor in charge of the Indian Hill medical facility that received Theo's corpse at the end of the episode. (DC Comics and Batman fans should pay close attention to Frain's final answer for a hint about the rumored arrival of Azrael. Sounds like things are only gonna get juicier when the show returns with new episodes in the new year!)
When did you find out Theo was not long for this world?
Shortly before the audience did. I had a hunch he was pushing it too far and it would come to some kind of showdown. I wondered if there would be a rebellion from his sister. I did feel it was moving toward an all or nothing situation.
How did the producers explain to you that he needed to die at this point?
By sending me the script! They had hinted I would possibly be leaving mid-season. A lot of our questions about the story or characters get answered at the read-throughs [and that] keeps us in touch with the way the audience will likely respond. There's been a lot of shocking surprises this season and the writers have kept the standards very high. We've all been amazed by the way they keep multiple storylines so intriguing and so well balanced.
Theo's final scenes were pretty horrifying. How was filming your death?
It was a pretty awesome Goodfellas kind of mob killing. We shot it on the Brooklyn shoreline at night with Manhattan's lights blazing in the background. It felt the appropriate end for Theo. I think the audience will be behind Penguin and Jim. But what will it cost Jim to go down this route? I suspect Galavan's death will have major implications for all of our main characters. Even in death, he's making life difficult for his enemies. Which is just what he would have wanted.
What do you think will Theo's legacy be, and how will his sister handle this turn of events?
I'm looking forward to seeing how Tabitha will handle her new role as sole representative of the family. Theo Galavan, we now know, was a mask for the Dumas family, and I think of his character as a series of masks that get peeled back one by one. The question is, who is really inside? Maybe we have not seen the last of him in some form or other? Or will Tabitha become the sole new avenging angel? It's possible we won't find out [Theo's] final true fate until the end of the season.
Gotham returns with new episodes in 2016.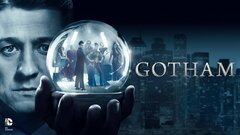 Gotham
where to stream
Powered by