First Look: Rob Morrow Joins 'The Fosters' as a Free Spirit (PHOTO)
Rob Morrow begins a recurring role as Will, a free spirit with money to burn, when Season 3 returns January 25 on Freeform (formerly ABC Family).
"Will made some good coin in the finance business, cashed out, bought an RV and hit the road," Morrow says. Now he's palling around with Sharon (Annie Potts, center, with Teri Polo).
Morrow has directed the teen drama, but this is his first time in front of the camera. "Acting is being able to be a kid again," he says. "Directing is playing at being God."
The Fosters, Monday, Jan. 25, 8/7c, ABC Family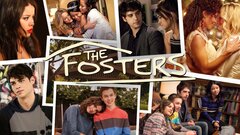 Powered by