How 'The Voice' Can be Used to Spice Up Republican Debates The Voice-style "Knockout Rounds" should be added to future Republican debates to breathe new life into the currently boring debate format, says Jack Shafer. He adds: "The new debates would immediately solve one problem—the moderators' wildly varying skills—by allowing only minimal intervention on the part of the TV hosts."
Oliver says of Kate Norley, who served as a U.S. Army medic: "I'm incredibly proud of her for everything that she did and has done and is continuing to do and supporting everyone who she has served with."
Disagreements over casting has led Spike TV to walk away from the its first scripted drama in nine years, about the black-market tissue and body parts trade.
The Hood by Air collection announced today also includes $40 Champagne flutes and a dress covered with Empire media.
The Archer and Jon Benjamin Has A Van vet wiil narrate a "comedic and wild anthology series of 100 very personal, lurid tales of secret passion, burning desire, and ruthless betrayal."
Kazan replaces Lisa Joyce, whose other HBO comedy pilot, Issa Rae's Insecure, was picked up. Kazan is also starring in David Simon's HBO drama The Deuce.
When asked why her show has "very little diversity," Kaling responded that one-third of her cast, including herself, is minority. She added: "I do think it's important though, we can always do better. I always think it's funny that I'm the only asked about this when sitcoms I love with female leads rarely date men of color. I guess white women are expected to date white men. I'm expected to 'stick to my own.'" PLUS: Kaling cited Pride & Prejudice and South Park as inspirations for her show.
The one-minute promo is being used to promote HIMYM's launch on Romedy Now.
Rhimes spoke to NPR's Fresh Air today, explaining how the limits of network TV can result in creativity. "I always say we're incredibly creative within our fences, because I don't feel like we're pushing boundaries. We're very creative within our fences, and because we have the fences, they make for very creative moments. We come up with some stuff that I don't think any of us would've come up with had we not had the fences."
"What I did was wrong and inexcusable," says Real Housewives of Orange County's Brooks Ayers.
Empire this season is using the strategy of pairing its singers with real artists, while Nashville is releasing multiple soundtracks.
Victoria Smurfit will reprise Season 4 role in the spring.
"Today is an intense day," tweeted Adam Savage.
The only catch: It's happening at David Letterman's alma mater, Ball State University, on Nov. 13.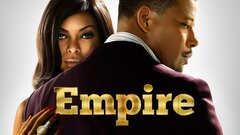 Empire
where to stream