Thanksgiving 'Cheers': A Messy History of TV's Greatest Food Fight
The plot of Cheers' 1986 Thanksgiving episode (the show's first) is as simple as pumpkin pie: To avoid spending the holiday alone, barflies Norm (George Wendt), Cliff (John Ratzenberger), and Frasier (Kelsey Grammer), bartenders Woody (Woody Harrelson) and Sam (Ted Danson), and barmaid Diane (Shelley Long) end up at the home of waitress Carla (Rhea Perlman). But when the turkey's not ready, tensions run high, trimmings fly, and the gang ends up in what's still TV's greatest food fight. We talked to some of the series's main players about how that magical holiday moment came to be.
Glen Charles (cocreator): On holiday Thursdays, NBC usually aired reruns. But that particular year, they thought we had a chance of doing a respectable rating with a first-run episode.
Les Charles (cocreator): My wife and I had gone to a Thanksgiving dinner a few years before where the turkey would not cook. We had cocktails, and then more cocktails, and that lifted the mood for a while—but then that wore off and everybody turned on each other. That was one of our inspirations.
Rhea Perlman: Who doesn't want to have a food fight? We actors got to have two. The way we rehearsed in those days was to do a run-through for producers earlier in the day. We all had to wear smocks.
Glen Charles: The biggest complaint during filming was that it wasn't real food.
Les Charles: I remember it being cold canned food.
Bill Steinkellner (writer): We could only shoot one fight, so we had to get it right. If someone messed up, that meant a costume change, and the studio audience only wants to wait for so long.
Les Charles: It was the only scene we ever did in one take. We made sure everybody had film in the cameras, and that the sound was rolling, before we got to the throwing of the food. There was no turning back.
Steinkellner: All the initial volleys—the peas, the gravy, the potatoes—had to be choreographed and done very carefully. Then the actors were on their own.
James Burrows (cocreator, director): I allowed the cast to just go for it on that take.
Steinkellner: The actual fight went on for a good five minutes. Once they started, they would not stop.
Perlman: To be able to pick up a bunch of mashed potatoes and throw them at anybody? It was so gratifying.
Les Charles: We hadn't thought about how slippery the floor was going to get. As the scene went on, actors were sliding about. We started to worry for their safety.
Perlman: When we knew that they had enough [footage], I think Jimmy Burrows was calling, "Cut!" and we all bombarded him. We were just like a bunch of kids at camp. Set us free and we'll do anything ridiculous.
Glen Charles: The cleanup? It took hours.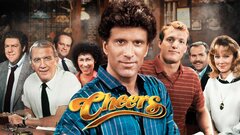 Cheers
where to stream
Powered by