Mena Suvari Exposes Her Demonic Side in WE tv's 'South of Hell' (VIDEO)
9fl0wHb1
WE tv joins the growing trend of networks launching shows on alternative platforms. In this case, WE is rolling out all seven episodes of horror meister Eli Roth's supernatural chiller South of Hell in what they're calling "a Black Friday Binge" on November 27. Simultaneously, WE tv will run shareable GIFs in the WE tv app and exclusive bonus content on WEtv.com, and the series will be available On Demand the next day.
The thriller, set in a history-haunted Charleston, S.C., stars Mena Suvari (last seen on Chicago Fire) as Maria Abascal, a demon hunter for hire. She has knowledge on how to catch 'em because she is half-demon herself: she shares a body with one nasty monster named Abigail, who feeds on the evil beings exorcised from the possessed.
"Maria is particularly good at her job," says Suvari. "That's important because when our story begins, Charleston is being threatened by a demon army led by Maria's father, Enos (Bill Irwin)." Speaking about her character, the actress also shared how she really related to Maria. "In a sense, she's two sides of the same person. There's the strong, grounded, sensitive Maria and then there's the evil, psychosexual Abigail," Suvari explained. "While the premise is fantastical, her internal struggle makes her someone everyone can relate to, and a lot of fun to play."
As a fan of lifelong horror movies, Suvari is particularly thrilled about South of Hell's production pedigree, as Eli Roth was the executive producer on Hostel and Hemlock Grove, and fellow executive producer Jason Blum worked on Paranormal Activity. "I have been a huge fan of both Eli Roth and Jason Blum," she revealed.
Watch an exclusive clip of South of Hell above, with Suvari and Lamman Rucker (Meet the Browns) playing a preacher who requires her special services.
South of Hell, Friday, Nov. 27, 6/5c, We tv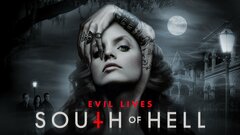 Powered by