'The Walking Dead' Announces 'Fear' Crossover, Debuts Season 8 Clip at New York Comic Con
AMC's groundbreaking zombie hit The Walking Dead returns later this month to premiere not only its eighth season, but also its 100th episode.
During the show's New York Comic Con panel on Saturday at Madison Square Garden, AMC revealed some major news in terms of The Walking Dead and its spinoff Fear the Walking Dead: fans are finally going to be getting a crossover moment!
Moderated by Talking Dead host Chris Hardwick, the panel featured executive producers Robert Kirkman, David Alpert, Gale Anne Hurd and Greg Nicotero and stars Andrew Lincoln (Rick), Jeffrey Dean Morgan (Negan), Melissa McBride (Carol), Lennie James (Morgan), Austin Amelio (Dwight), Katelyn Nacon (Enid), Thomas Payne (Jesus) and Norman Reedus (Daryl).
Kirkman mysteriously teased, "There is one character that is going to go from one show that I will not name, and appear in the other show, which I will not name."
Now of course we won't know if a character from the spinoff will appear on the flagship series or vice versa, but this is still a major step for both series. Fear the Walking Dead is wrapping its third season later this month, and for the longest time the showrunners kept the two series—which take place at different time periods during the zombie apocalypse—apart to let Fear grow and stand on its own. However, according to Kirkman, "I think that we've finally gotten to a place where Fear the Walking Dead has its own identity."
Kirkman later teased that we'll learn more about this mysterious crossover moment in the coming months, so keep an eye out for more info coming soon!
In other Season 8 news, a clip from the upcoming season was released that is a shot-by-shot recreation of another Walking Dead moment. "The 100th episode is a tribute to previous scenes from earlier episodes," Nicotero explains. Check it out below and see if you can recognize it.
Can you feel it? Season 8 is almost here. #NYCC #TWD pic.twitter.com/chdPnNjV0Q

— The Walking Dead AMC (@WalkingDead_AMC) October 8, 2017
The cast spent some time on the panel reflecting on The Walking Dead's first seven seasons and looking forward to Season 8. "Season 7 sucked for Rick Grimes, but Season 8 he's definitely getting his stroke back," Lincoln teases. "It's reminiscent of Seasons 1-4 … We've got the gang back together."
The Walking Dead, Season Premiere Oct. 22, 9/8c, AMC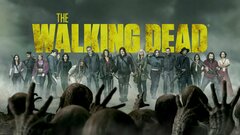 Powered by