Fred Thompson, U.S. Senator Turned 'Law & Order' Star, Dies at 73 The former Tennessee senator and presidential candidate worked as an actor as a side job. He played D.A. Arthur Branch on 116 Law & Order episodes, while also appearing on three of its spinoffs. He also had a number of guest-starring TV roles, including on Matlock, The Good Wife and, earlier this year, NBC's Allegiance.
The Scientology tell-all interview with Remini, which boosted 20/20's ratings, quoted from a short statement that Holmes submitted. According to Holmes' rep, "The reporter seemed very overzealous—don't use [my client] to [get] numbers on your show. Katie is 100 percent not appearing unless they magically superimposed her. They owe her an apology."
The Donald had tweeted that he said "no thanks" to John Oliver's "very boring and low rated show," prompting Last Week Tonight to tweet: "Yes, we have a boring show" and "At no point did we invite Donald Trump to appear on it."
The NY Post reports that "NBC is worried that Fallon's drinking has turned excessive." The Post's Page Six has documented "after-hours antics" at various bars. But so far, NBC has done nothing to deal with the problem, according to The Post.
The petition has more than 120,000 signatures, but ABC isn't budging. "We love Raven," the network said in a statement. "She is confident, genuine and opinionated, all qualities that make her a great addition to the panel."
The ESPN analyst screamed in horror when greeted live on air by zombies from the Eastern State Penitentiary.
"Let's see if they have the guts to say that to my face," the Republican presidential candidate said, after the ladies of The View made fun of her looks.
Friday's Destination America stunt, says Brian Lowry, was "mostly harmless, pre-Halloween fluff. But gee, guys, couldn't someone at least have knocked over a glass or something, instead of just whining about how heavy and cold they felt, as if this were a lousy camping trip?"
The Alice alum will play the mom of Violet's fiancé, Gregory.
Being Human's Kristen Hager will play the role of Nora Fries.
Japanese cleaning consultant Marie Kondo's best-selling book, The Life-Changing Magic of Tidying Up: The Japanese Art of Decluttering and Organizing, is set to become an NBC comedy.
Gillian Anderson and Jim Broadbent will also appear in the six-part miniseries based on the epic novel.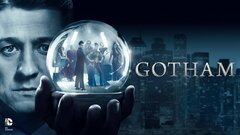 Gotham
where to stream