Roush Review: 'White Famous' Spoofs Hollywood
It's always showtime on Showtime, a network seemingly obsessed with the business of show.
After several self-important misfires (Roadies, I'm Dying Up Here), the promising White Famous delivers a more agreeable if not yet quite realized take on industry satire. The profane and biting, but also unexpectedly warmhearted comedy from Tom Kapinos (Californication) follows the rising career of Floyd Mooney (the charismatic Saturday Night Live alum and expert impressionist Jay Pharoah), an African-American stand-up whose well-tuned radar for Hollywood's institutional racism comes in handy during what his aggressive dingbat of an agent calls a "golden age of diversity.… There's never been a better time in Hollywood to be a POC [person of color]."
Wary of the conventional trappings of success, and drawing the line at making his movie debut in drag, even when egged on by no less than Oscar-winner Jamie Foxx (an executive producer and guest star in the pilot episode), Floyd is a self-confessed "comedy snob" who'll have to learn to swallow his considerable male pride to cross over into Foxx-level "white famous" superstardom. He's also a well-intentioned family man at heart with a son (Lonnie Chavis of This Is Us) and an estranged girlfriend (Cleopatra Coleman) he adores, which sets him apart from louche creeps like Foxx—at least the version he plays here, first seen in a compromising position better suited to Californication.
You might also cringe during the scene that replays the old gag of a minority character being mistaken for a parking valet, but when it happens to Floyd and goes viral, he's suddenly thrust into the Hollywood fast lane, where lunatic oddballs offer him opportunities that somehow feel like traps. Stephen Tobolowsky, a master of bizarre eccentricity, is a powerful producer shamed by having his racially insensitive blind spots exposed, and Michael Rapaport appears later as a gonzo director who's not afraid to offend with his method madness.
While Floyd at times seems almost too good to be true as he tries to rise above Hollywood's dehumanizing din, Pharoah convinces us that he's talented enough to earn his fame, color be damned. Now White Famous just needs to rise to his level.
White Famous, Series premiere, Sunday, Oct. 15, 10/9c, Showtime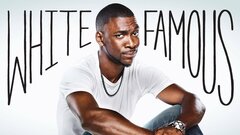 Powered by