Patricia Heaton Shows You How to Throw a Party on Her New Food Network Series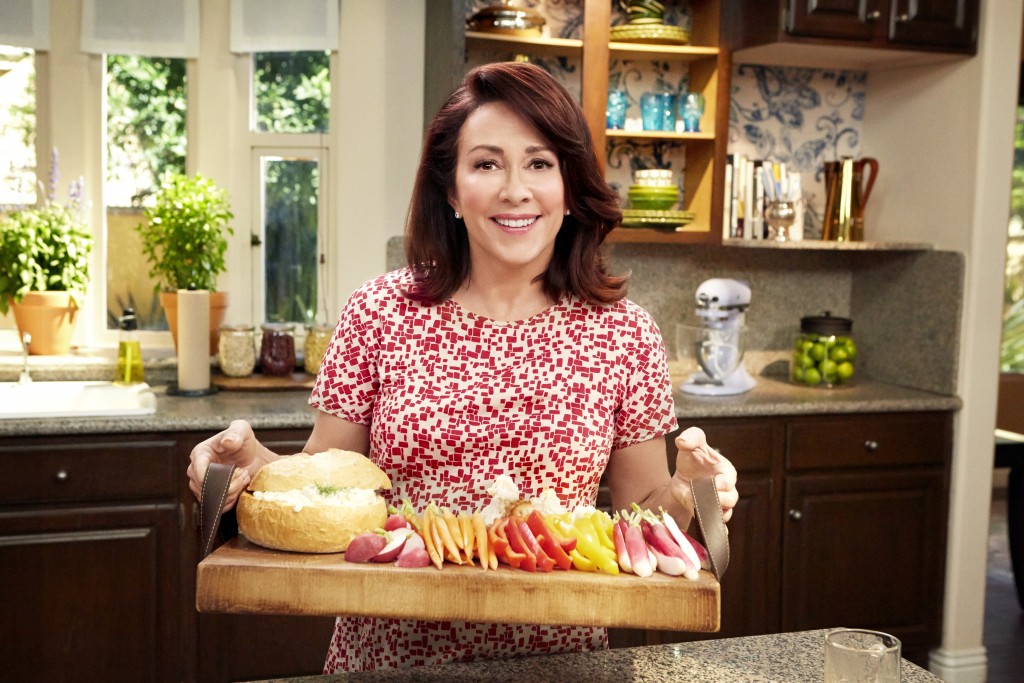 When it's dinner time on The Middle, harried mom Frankie Heck brings in the take-out. On Everybody Loves Raymond, Debra Barone was only good at making lemon chicken, and, frankly, it wasn't all that great. But the woman behind both characters, two-time Emmy winner Patricia Heaton, is a killer in the kitchen! Want proof? Grab a cocktail—make it a double—and join her for the new Food Network series Patricia Heaton Parties, premiering Saturday, Oct. 26 (noon/11am c).
You don't need the dough or the attention or one more project sucking up your time. Why make this move into food TV?
I am always up for another adventure, and this show forces me to use new parts of my brain. Cooking out loud is hard! When I cook at home, I'm watching true-crime stories on TV. Spoiler alert: It's always the husband who did it. But on my food show, I have to cook and describe each step clearly so the people at home can do it too and talk about my life, my family, my career. You have to slice, dice and be dazzling. After 10 hours a day of that, I was dead! On The Middle, they hand me a script. I say the lines. If I do them wrong, they correct me. Then I go home. Acting is so much easier!
So what's your advice to newbie party throwers?
Keep it easy. Keep it fun. And don't be afraid. This season, I show you how to cook for football parties, Halloween, wedding anniversaries, ladies' night, kids' night. Don't think you have to be Martha Stewart and create hand-stenciled place settings and five-course meals, each course paired with the appropriate wine. Puh-leeze! When I go to a friend's house for dinner, I am so excited I don't have to cook that I love everything! You've already succeeded just by inviting people.
RELATED:Serve Anthony Anderson's Corn Muffins Recipe
Were you raised to be great in the kitchen?
Hardly. My mother, God rest her soul, was a wonderful woman but she made very few dishes and they all had ground meat—hamburgers, meat loaf, that sort of thing. She used to watch Julia Child on TV and write down all of the recipes and I never saw her make even one! So she had the interest, just not the inclination. It wasn't until I graduated college and moved to New York that I started learning about food thanks to all my non-acting jobs. I did room service in a hotel for a few years and also worked for a party-planning agency where I learned all about entertaining and decorating. You got a table? I can tablescape it.
But how do you manage to be Suzy Homemaker when you also have a full-time job and four kids?
I don't! When I got married 25 years ago [to actor David Hunt], I had a great time playing the housewife. I'd invite people over and experiment with recipes like crazy and really had a ball. But then my career started happening and we started having children and my passion for cooking sort of went the wayside. Now that my boys are older and more independent, I'm getting back into the kitchen a lot more. But, like Frankie on The Middle, I'm still big on take-out. I have an entire drawer in my kitchen filled with plastic forks and those little packages on ketchup. [Laughs] And, like Debra Barone, I've also had my share of kitchen disasters! When that happens, it helps to have an understanding family. And cereal. You absolutely must have cereal on hand. When things go wrong, you can always revert to that.
RELATED:Natalie Morales Channels Her Inner Julia Child
This show is big on booze. In the Halloween episode, you even use a vodka bottle as a rolling pin.
To be honest, I originally thought, "Let's just do a show about cocktails." Specifically, bourbon. Specifically, Maker's Mark. It has always been on my bucket list to get someone to pay me to drink in the afternoon. [Laughs] But Food Network wanted something a little broader. Go figure.
How do you think you would fare on one of those frantic food-competition shows like Top Chef?
Let's put it this way. I'd make a really good judge.