First Look: Maisie Williams as a Viking on 'Doctor Who' (VIDEO)
The long-anticipated two-part episode of Maisie Williams on Doctor Who is almost here, and BBC America just released a clip from this Saturday's episode.
Williams plays the Viking girl, Ashildr, in the episode "The Girl Who Died," which sees the Doctor and Clara meeting the great Odin, who wants to send his bravest and most loyal Vikings to beautiful Valhalla. Problem is: The Doctor and Clara suspect Odin's army is a group of invading aliens (of course). So they take it upon themselves to whip some village Vikings into shape so that they can defend themselves. Despite the intense training, the Doctor seems more eager to protect Ashildre (who he recognizes somehow…from somewhere) above anyone else (well, except Clara).
The two-part episode is written by Jamie Mathieson, who worked on the UK version of Being Human. His eps come after another two-parter, "Under the Lake" and "Before the Flood," also by fellow Being Human writer, Toby Whithouse. Speaking about the episode with BBC America, Mathieson revealed, "[T]he Doctor has no TARDIS or sonic screwdriver, just his wits and raw material in the form of Viking villagers. But these aren't the roaring warriors of legend, these are the ones who usually stay behind to feed the chickens." So the Doctor and Clara have some work cut out for them in helping the farmers and shepherds fight instead of flee.
As for Williams, despite going from one period drama to another, she found herself being confronted not by dragons but by something more ordinary: bearded men. "I don't know which would have more, but it's very nice to have that familiar bearded, hairy men setting," Williams shared. "It's so refreshing to have this futuristic element linked in to it too, that's what has kept me going really… It just looks so great with all of us in our Viking outfits, Jenna in her space suit and the Doctor in his cool coat with his crazy sunglasses."
Watch an exclusive clip of the first part of "The Girl Who Died" below.
Plus, watch Williams talk about what it was like being a part of Doctor Who and working with Peter Capaldi. "He totally lived up to my expectations and I Iove that!"
The two-part episode of Doctor Who's "The Girl Who Died" will air on Saturday, Oct. 17 and Oct. 24 at 9/8c on BBC America.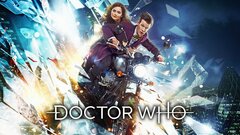 Powered by