It's Not Set in Tribeca, and Other Things We Learned about Rashida Jones's New Comedy 'Angie Tribeca' at NYCC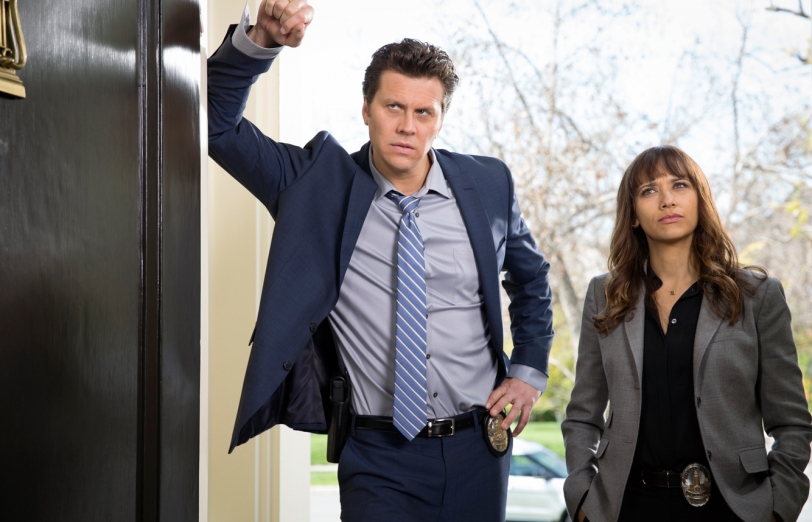 You could say she puts the "comic" in Comic Con. But you shouldn't, because Angie Tribeca, lead character of the titular upcoming TBS comedy starring Rashida Jones, would surely kick you in the groin.
Angie is a tough-talking, no-nonsense police detective. She works out in the morning by punching her refrigerator. She's already had 236 unlucky partners. And she's perfected slowly putting on Aviator sunglasses. To herself, Angie is utterly serious—like her murder case involving a still-living old lady who was either shot or strangled in the park. But to us, she's hilarious. The series, which was created by Steve Carell and his wife Nancy, gets its laughs by taking the most ridiculous things very, very seriously—kinda like that Law & Order: SVU when a guy (played by John Stamos) impregnated half of NYC and then got harpooned. But on purpose. Here's some other facts we learned from Jones, her costars Jere Burns and Andree Vermeulen, and executive producer Ira Ungerleider at New York Comic Con.
Proud papa Ungerleider compares the series to Airplane!, Police Squad!, Sledgehammer, Blackadder, Monty Python, The Young Ones, and almost every great comedy in existence.
Despite Angie's New York City-centric name, the show is set in Los Angeles. Her moniker comes from a posturing, female tough cop character that skilled improv-ers Mr. and Mrs. Carell would play to amuse each other at home.
Jones was planning to take a break from acting when Carell and his wife personally emailed her the script.
And how could she resist when her favorite comedy is Airplane!, which shares the show's absurdist sensibility. "There's something magical about playing things seriously that are really, really, stupid, she says."
Ungerleider contends that they will never run out of fodder for their "investigative crime comedy" thanks to the recent unending crop of philosophical "but still insane" crime shows like Fargo and True Detective.
More News From Comic Con:Sneak peeks, panel reveals and what's ahead on your favorite shows