What's Causing Tim Gunn to Have a Meltdown on 'Project Runway'? (VIDEO)
https://player.waywire.com/?id=S66N0X065F0KNBB3
Project Runway will be getting a little UnReal in Thursday's episode.
Not only will the stars of the Lifetime summer hit, Shiri Appleby and Constance Zimmer, be serving as guest judges on this week's episode, but the designers will have to make over women from the Project Runway crew.
But based on the exclusive clip above, one of the designers isn't hitting the mark in the challenge, prompting Tim Gunn to lose his signature cucumber-like cool and force him to ask why they're in the competition. Talk about a majorly upsetting "make it work" moment!
Watch the video and then tune into Project Runway on Thursday at 9:00 pm ET on Lifetime.
RELATED UnReal's Season Finale Postmortem: Untangling Love and Lies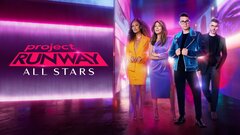 Powered by