First Look: Ellen Burstyn Opposite Allison Janney on 'Mom' (PHOTO)
More motherly love (of a sort) is coming to Mom this season.
Legendary actress Ellen Burstyn (Louie, Big Love) will appear on episode 3 as Bonnie's (Emmy-winner Allison Janney) estranged mom, Shirley, who suddenly wants a relationship with her daughter. As Mom co-creator Gemma Baker told The Hollywood Reporter earlier this summer: "Ellen Burstyn plays [Bonnie's] biological mother, who put her in foster care when she was very young. Of course, Bonnie has a lot of feelings to work through, and Christy as well. It's a difficult reunion."
The "Terrorists and Gingerbread" episode will air on Thursday, November 19. Also featured in the episode is guest star June Squibb (Devious Maids, The Young and the Restless), as Dottie, a woman who Bonnie thinks would be the perfect grandmother.
Get a first look of Ellen Burstyn on the show in the photo above.
Mom, season premiere, Thursday, Nov. 5, 9/8c, CBS
RELATED: Emily Osment on Mom (Plus Other Stars on Your Fave Fall Shows)
---
Questions? Ask Critic Matt Roush!
TV critic (and occasional TV therapist) Matt Roush answers viewer questions and concerns in his Ask Matt column each week. Wondering about plots, characters and twists on your fave shows? Submit your query to Matt via the form below: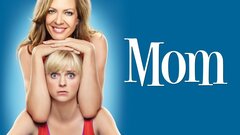 Mom
where to stream
Powered by