Treehouse of Horror XXVI First Look: 'The Simpsons' Goes for Old-Timey Terror (PHOTO)
On the list of Halloween traditions, The Simpsons' annual Treehouse of Horror episodes rank only slightly behind trick-or-treating and questionable costumes. The series has churned out a trio of scary stories every fall since 1990—and this year, one of the tales gets the black-and-white treatment:
In the 26th installment, Grandpa Simpson takes Bart and Lisa to perform a ritual sacrifice for a monster. (Though the true terror might be gramps wearing flips flops). Also among this year's scary stories? Sideshow Bob  (voiced by Kelsey Grammer) will finally succeed in murdering Bart.
If you're behind on your Halloween specials, FXX will let you mainline every Treehouse of Horror episode starting Sunday, Oct. 25 at 11:30 a.m. in a marathon session leading up to the all-new "Treehouse of Horror XXVI" at airing at 8/7c on Fox.
---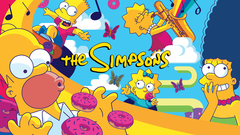 Powered by