'The Leftovers': Damon Lindelof and Tom Perrotta on the Most Important Scene From the Pilot (VIDEO)
https://player.waywire.com/?id=LRYYSM2MWRSFT038
Last summer, HBO's The Leftovers introduced the concept of two percent of the world's population vanishing in the blink of an eye. This sudden and traumatic event allowed for a fascinating case study of how ordinary people cope with such a traumatic and sudden event.
In a bonus feature included in the Complete First Season Blu-ray and DVD (available on Tuesday, October 6), author Tom Perrotta sat down with showrunner Damon Lindelof for an in-depth conversation about establishing the characters that populate this world of grieving. In the exclusive clip above, the two creative forces discuss the importance of the pilot and one scene in particular that helped inform their characters' journeys throughout the remainder of the season.
Don't miss the Season 2 premiere of The Leftovers this Sunday, October 4 at 9/8c on HBO.
RELATED: The Leftovers' Carrie Coon Discovers Miracles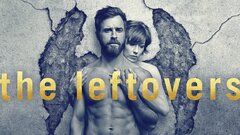 Powered by