'Jane the Virgin' Stars Reveal Their Quirky Secret Talents (VIDEO)
Well, it's official: There is pretty much nothing Gina Rodriguez can't do.
The beguiling star of The CW's freshman favorite, Jane the Virgin, has already won a Golden Globe, our hearts and a rumored spot on the shortlist for a role in the next Star Wars movie. Now, in this exclusive clip from the telenovela's first-season DVD release, Rodriguez is revealing yet another skill, albeit one that would probably serve her better in an early '90s rap battle.
Of course, our favorite accidentally inseminated heroine isn't alone in her hidden abilities. Rodriguez's costars Brett Dier and Justin Baldoni—who forever have us changing our minds as Jane's suitors Michael and Rafael—are also sharing their secret chops in the extra clip featured on the five-disc set, and magically, both guys have somehow managed to make themselves even more adorable. Check 'em out below.
Jane the Virgin: The Complete First Season is on DVD now and season two begins on Oct. 12, 9/8c, on The CW.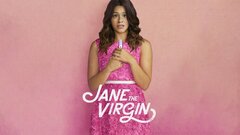 Powered by