Whitney and Lennie Finally Meet on 'My Big Fat Fabulous Life' (VIDEO)
https://player.waywire.com/?id=794B8B02ZG9M9QDK
Whitney Thore may meet her match on tonight's My Big Fat Fabulous Life when she finally meets her Tinder prince Lennie for a first date. This clip, from one of the two new episodes airing tonight, shows the two meeting in person for the first time, along with Whitney's pre-date anxiety.
"I've been disappointed so many times," she says. "Online chemistry does not always translate to real life chemistry at all, but I have to say, he's really hot."
The bearded artist takes her out to Wine and Design, where you can indulge in wine while painting a selected image, which in their case is a sandy beach scene. Although Whitney isn't the best one in the class, Lennie helps her out with his painting skills—or as Whitney describes it, "We have a movie moment."
Check out the exclusive clip above and determine whether you think these two have real chemistry…or not.
My Big Fat Fabulous Life airs Wednesdays at 9/8c on TLC.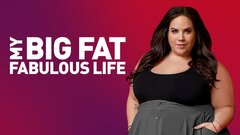 Powered by