'CSI's Stars Pay Tribute to the Show (and Each Other) at PaleyFest
With laughter and a few tears, the CSI mothership prepared for the series finale with a finale tribute at the Paley Center for Media in Beverly Hills on Thursday, reuniting cast members and the creatives who crafted the hit over the last 15 years.
"A large catastrophe paralyzes Las Vegas and everyone comes back to work on the case," was the most executive producer Anthony Zuiker would reveal about the show's two-hour finale, which airs September 27. (Fortunately, we learned a bit more about the episode last month.) But most of the night's panel was devoted to strolls down memory lane.
Marg Helgenberger recalled the very beginning of CSI, taking William Petersen's hand as she recounted, "Billy got us all going. I can't imagine taking this ride with anyone else." Then the two of them kissed and we're not sure but we think we heard everyone melting a little bit at the sweetness of it all. Both agreed that it was best that Grissom and Willows never got together romantically—"They're like an old married couple without the sex," Helgenberger said.
Ted Danson recalled how nervous he was when he reported for his first day of work on the hit show. He was comforted by Helgenberger and told her, "You were so elegant, welcoming, and gracious. You're so kind." Paul Guilfoyle also showed great fondness for Jorja Fox, saying "I always thought of you as the heart of this whole group" which prompted much "awww" from the audience and a few tears from Fox.
"I was so grateful to be part of a show I was such a big fan of for years," Elisabeth Harnois (Morgan Brody) said. I love all these people. David Berman [who played David Phillips] was warm and welcoming and he's cooked me some of the best dinners I've ever had. He's a dear friend." And what about the kisses her character had with Wallace Langham's Hodges? "I enjoyed them," Harnois said. "What a firebrand you were! You took no s–t!" Langham replied
Executive producer Carol Mendelsohn said working with Quentin Tarantino on the sprawling, two-hour Season 5 finale was one of the highlights for the show. Zuiker recalled how Tarantino helped break the episode in the writers' room in his characteristic stream-of-consciousness style. Mendelsohn and Zuiker agreed the special episode was worth the extra time and money.
At the evening's close, Zuiker expressed his appreciation for the show's devoted viewers: "Every conversation we have is about the audience—what will they like, what will they want, and it's been that way for 15 years. Thank you!"
The panel included cast members William Petersen, Marg Helgenberger, Jorja Fox, Ted Danson, Paul Guilfoyle, Eric Szmanda, Wallace Langham, Elisabeth Harnois and Robert David Hall, and executive producers Jerry Bruckheimer, Anthony Zuiker, Carol Mendelsohn, Jonathan Littman and Ann Donohue.
CSI, Series finale Sunday, Sept. 27, 9/8c, CBS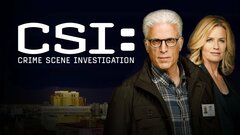 Powered by