'The Night Shift' Preview: Will Jordan Let TC Return to Syria? (VIDEO)
"I will always love TC (Eoin Macken) but I'm not in love with him," says Jordan (Jill Flint) in the season finale of NBC's The Night Shift. And while viewers may not completely believe her (of course she loves him!), will she have to rethink her feelings for the adventurous doc when she inadvertently finds out he's planning on returning to active service in Syria?
What else can viewers expect in The Night Shift Season 4 finale? Rick (Luke Macfarlane) needs help from TC, Jordan, Drew (Brendan Fehr) and Amira (Rana Roy) in a deadly situation, while Scott (Scott Wolf) starts a new training program at San Antonio Memorial and clashes with Julian (James McDaniel).
See Also
The 'Suits' star shares his thoughts about helming the series' milestone 100th episode, the fourth episode he has directed.
But back to Jordan's feelings for TC. In the exclusive clip bekiw, see what you think about whether she is fooling herself about her feelings for TC when Amira let's it slip about their plans to return to Syria. Will Jordan take some kind of action in the finale to prevent TC from leaving? Should she? You be the judge!
The Night Shift, Thursdays, 10/9c, NBC.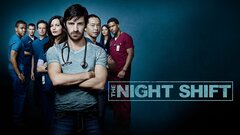 Powered by