Ask Matt: This Season's "Bubble" Shows, 'Blindspot', Constantine on 'Arrow', 'Fear's No-Show, and More
Welcome to the Q&A with TV critic (also known to some TV fans as their "TV therapist") Matt Roush, who'll address whatever you love, loathe, are confused or frustrated or thrilled by in today's vast TV landscape. One caution: This is a spoiler-free zone. Please send your questions and comments to [email protected] (or use the new form added to the end of the column) and follow me on Twitter.
Question: I know the new season hasn't even started yet, but are there any returning shows on the broadcast networks that you see will be on the bubble for next year? — Dave
Matt Roush: Interesting question, because there were quite a few freshman shows renewed from last season, which always leads to the possibility of a sophomore slump. I imagine many will hold up well enough (Empire, Scorpion, Gotham, NCIS: New Orleans, The Flash, black-ish, How to Get Away With Murder, Last Man on Earth, Madam Secretary, hopefully even cult items like Jane the Virgin and iZombie), but how returning shows fare often depends on the health of the network. So if NBC's overall fortunes improve, I'd think something as mediocre as The Mysteries of Laura could see its days numbered. I also worry about something as offbeat as Fresh Off the Boat airing on Tuesdays with the unknown quantity that is The Muppets (hoping for success, but it could go either way). Then there are perennial bubble shows like Nashville, which is living year to year, and it's hard to predict when a long-running show will finally decide to throw in the towel. (CBS usually picks one to retire so as to keep refreshing its lineup, but with CSI already bowing out with its movie finale on Sept. 27, that may not be the case this year.)
---
How Fringe is Blindspot?
Question: What did you think of Blindspot from the NBC Upfronts? I was intrigued by the premise of the show, until I saw an extended trailer. The tattoos are tied to future crimes? Are we talking time travel? Aliens? An AI like on POI? I like a great sci-fi tale, but this is being billed as a Bourne-like drama, not another Fringe. — Anonymous
Matt Roush: From the Upfronts (when we only had a trailer to judge) through the summer TCA presentation (by which time I'd seen the full pilot episode), I've always considered Blindspot to be among the more intriguing and promising of the season's high-concept action series. I wouldn't necessarily classify it as sci-fi, even with all of those tattoos leading the heroes (Jaimie Alexander and Sullivan Stapleton) to crime scenes and unknown conspiracies. If you want to see a truly futuristic sci-fi show all about preventing future crimes, that would be Fox's so-so remake of Minority Report, also airing on Mondays. Blindspot really is cut more from the Bourne cloth, because of the nature of the amnesiac Jane Doe played by Alexander, who in crisis reveals herself to be a ninja. It's all high-voltage nonsense, really, but that can be fun for an hour if executed properly. But if you're seeking the next Fringe, you won't find it here. (Or, sadly, in the bland Minority Report.)
---
Looking for Fall Winners Amid the Clutter
Question: After a summer of ninja warriors, tiny houses and transgender people, I'm ready to find some company on my fall viewing schedule for my three favorite returning broadcast network shows. They're great shows: The Good Wife, Modern Family and Jane the Virgin, but figuring out what else to watch may be difficult. I'll definitely be watching the new Masterpiece series Indian Summers and the new Doctor Who. I hope the Fall Preview issue of TV Guide Magazine will be helpful as usual.
While I read about the 400 or so new scripted shows coming out this year on all the different viewing platforms, I don't see anything about a similar proliferation going on in sports programming. That's where I'm spending more of my TV time. Formerly inaccessible soccer matches with my favorite English Premier League team are now available live and in replay on streaming video or live on cable or NBC. There has been an explosion of professional rugby coverage in the last three years on cable sports channels like beIN Sports and streaming app WatchESPN. There have been stories recently, accompanied by some hand wringing, about ESPN losing viewers, but I wouldn't give them up if it meant losing access to all the games they carry only on ESPN3 streaming. It's truly a TV/video world of too many choices. I don't envy you trying to keep up with the best of the entertainment programs and, next year, the Rio Olympics. Whatever recommendations you throw our way are very much appreciated. — Frank
Matt Roush: Thanks for giving me an opportunity to plug TV Guide Magazine's annual Fall Preview issue, currently on stands now (with the Returning Favorites issue coming out next week). Though the network offerings are relatively undistinguished this year, I hope you'll discover a few new faves in the mix. (If you like Jane the Virgin, I hope you'll give its wacky companion piece Crazy Ex-Girlfriend a try. And if you're a Modern Family fan, check out CBS's Life in Pieces, which could almost qualify as a clone.)
And you won't be disappointed in Indian Summers. I spent a chunk of my Labor Day weekend wallowing in this 10-hour drama set in India in the 1930s, and could easily have watched more. (Still hoping to get an advance peek at the new Doctor Who, starting Sept. 19.) I don't cover sports TV all that much (although I have been watching an inordinate amount of U.S. Open tennis coverage, given how much other TV is piling up around me). For as much as we go on in this column about the glut of scripted programming, there's no denying the importance of sports as a live-TV ratings engine and its prevalence on streaming outlets and apps. I'm really trying not to succumb to the current "too much TV" frenzy, figuring I'll keep making judgment calls on my time the way I always have. But with two new late-night hosts arriving this month, alongside all the other frenzy, surviving September will be a special challenge this year.
---
Excited for the Constantine/Arrow crossover
Question: What do you think about John Constantine from the canceled NBC comic-book series Constantine crossing over to guest-star on an episode of The CW's Arrow this season? I think that it's a great idea for fans of Constantine (including me—but I'm also a fan of Arrow!) that were pretty bummed out about Constantine's cancellation that we get to see Matt Ryan as John Constantine one more time! Though I wish he'd guest star in more episodes of Arrow, I'll take what I can get! –Chris
Matt Roush: Seems to me to be a smart move and a nice tip of the cap from the Warner Bros. studio to acknowledge that all of these shows and characters are coming from a heightened comic-book universe. (Also thinking he'd be a good fit on The Flash someday with all of those cursed meta-humans running around.)
---
Even Zombies Get Labor Day Off
Question: Why did Fear the Walking Dead take a break Sunday after airing only two episodes? — Anonymous
Matt Roush: It was a choice on AMC's part to take the holiday weekend off and just replay the first two episodes. Labor Day is traditionally a time to indulge marathons of favorite shows, and precious few scripted series put up new episodes on what is typically a low-volume night for viewership. (FX's The Strain and Showtime's Ray Donovan-Masters of Sex combo were rare exceptions.) Given how long we've waited all summer for Fear to premiere, I can understand the frustration that it would go to a repeat this early in its run.
---
More Life for Whispers?
Question: So that was a season finale for The Whispers? Is there any chance there will be a second season? I'd kind of thought that wasn't a certainty given the anemic ratings, but with that ending, it wasn't a satisfying series finale. Any thoughts? — Anna
Question: Still no word as far as I'm aware. ABC was just touting its DVR playback numbers, so it's possible they see value in continuing with the show, even though it has been reported that the deadline expired earlier this summer for picking up the cast options for a second season. If the worst-case scenario occurs and The Whispers ends on this note, I'd say just look at the whole thing as the longest Twilight Zone episode ever. They didn't always resolve those stories. If we're left with a scenario, which was inspired by a Ray Bradbury short story after all, that the aliens' creepy end game was to abduct the children for whatever purpose, then I can live with that. But you'd think, given how long ABC kept this one on the shelf (which is why they lost the cast options), that the producers might not have ended on such an unsatisfying cliffhanger.
---
In Defense of The Last Ship
Question: I have to disagree with Kathy's comments about The Last Ship. As with most science fiction, you need to put aside logic at times and just enjoy the ride. While I enjoyed the first season of Ship, I think the second season has been fantastic! It's been the first Sunday show I go to on the DVR each week, even before Ray Donovan, which is one of my favorites. The action has been tense, and as you've said before about other shows, they've just chewed through the story so you don't feel like they're dragging things out. I especially enjoyed the cat-and-mouse games between the ship and the sub all season. Reminded me of The Hunt for Red October. Watching the season finale this week, I was getting worried because it seemed more like a series finale, but then [Spoiler alert!] the Doc got shot and they said it would be back next summer. Yay! I know you have too much TV to watch (no such thing, IMO), but if you get a chance, I suggest you give Season 2 a look. – Ken
Matt Roush: I'll add it to my list. In retrospect, I regret spending those summer hours with True Detective I could have devoted elsewhere. But even in Ship's first year, the characters and situations never grabbed me the way they did on ABC's short-lived Last Resort (to randomly name another military-themed show with Last in the title). But thanks for the Ray Donovan shout-out. The show has been terrific lately, and I'm not regretting a single one of those hours. I'd even binge-watch that one.
That's all for now until next week (aiming for Tuesday), but remember that I can't do this without your participation, so please keep sending questions and comments about TV to [email protected] or shoot me a line on Twitter (@TVGMMattRoush). Or submit your question via the form below: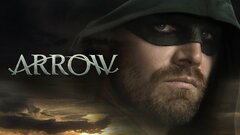 Arrow
where to stream