What's Worth Watching: 'Grey's', 'Scandal' and 'Murder' on ABC for Thursday, September 17. Plus 'Sex&Drugs&Rock&Roll' on FX
Grey's Anatomy, "You're My Home" (Thursday, Sept. 17, 8/7c, ABC)
Scandal, "You Can't Take Command" (Thursday, Sept. 17, 9/8c, ABC)
How to Get Away With Murder, "It's All My Fault" (Thursday, Sept. 17, 10/9c, ABC)
Sex&Drugs&Rock&Roll, "Because We're Legion" (Thursday, Sept. 17, 10/9c, FX)
It has surely been a long summer for fans of Shondaland's addictive "TGIT" serial dramas, who've been deprived of new chapters (or even, on ABC, repeats until just recently) of the twists, churning turns and all-around bats-in-the-belfry madness that hound the doctors, lawyers and shady government fixers whose fates hang in the balance every week. With only one week to go before the crazy train of Grey's Anatomy (entering season 12), Scandal (season 3) and How to Get Away With Murder (season 2) resumes, ABC is helpfully replaying all of last season's finales so you can refresh your memory—which if you're like me is probably cluttered with the afterglow of an endless wave of summer TV. In the case of Murder, which airs a shorter season than its lead-ins, we've been waiting to find out who killed Rebecca and why since late February.
So while we consider life without Derek on Grey's, and wonder how long Olivia and Fitz can carry on and canoodle without Mellie in the middle on Scandal, and anticipate fierce Professor Keating's next lecture-as-metaphor on Murder, this is as good a chance as any to look on in awe at the brand of outrageous entertainment Shonda Rhimes has established, filling the entire lineup of one of the TV week's most competitive nights. Enjoy the wallow.
There's also a first-run finale tonight, as Denis Leary's raucous Sex&Drugs&Rock&Roll ends its first season on a mostly high note, with the rock band from nowhere licking its wounds after its latest near-miss with success. "We almost sold our souls, but at the last second we snatched 'em back," says Johnny Rock (Leary), almost proudly, while his rock-star wannabe daughter Gigi (Elizabeth Gillies) plots her next move.
This involves bringing in a "vibe advisor," slyly played by Northern Exposure's Rob Morrow—making for a reunion of sorts with John Corbett, who plays Flash, Gigi's on-and-off-boyfriend and Johnny's longtime bandmate. Morrow's character serves much the same function as the guru played by Griffin Dunne earlier in the season, getting in these egotists' heads as they try to make beautiful music together. That they're recording a song titled "It's Complicated" as the season ends only makes sense. Hoping for more rollicking and raunchy complications in the future.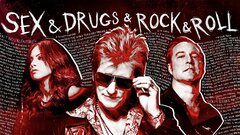 Powered by