What's Worth Watching: 'Meet John Doe' and Frank Capra's WWII documentaries on TCM for Tuesday, September 1
TCM Spotlight: Five Came Back—Frank Capra (Tuesday, Sept. 1, 8/7c, TCM)
In an intersection of Hollywood and actual world history, Turner Classic Movies is flashing back to World War II each Tuesday this month with a series of films, shorts and documentaries made or overseen by celebrated directors who joined the war effort in part to combat the propaganda from the Nazi and Axis war machines. TCM's series is titled "Five Came Back," after the acclaimed non-fiction book written by entertainment journalist Mark Harris, who co-hosts each week's lineup with TCM's Ben Mankiewicz.
The focus of the first night is Frank Capra, who headed up the film unit and produced a well-remembered seven-part series of documentaries titled Why We Fight, the first of which (Prelude to War) airs at 10:15/9:15c. (For a full rundown of movies through the month and more background, go here.) The Capra retrospective begins with Meet John Doe, a populist fable starring Gary Cooper and Barbara Stanwyck, released the same year as the Pearl Harbor attack in December 1941, which spurred Capra to offer his services to General George C. Marshall. (Capra would later be awarded the Legion of Merit and Distinguished Service Medal for his contributions.)
Other highlights include a handful of cartoon shorts (all TCM premieres) featuring the character "Private Snafu," conceived by Capra and voiced by the great Mel Blanc. Directors included Chuck Jones, Bob Clampett and Friz Freleng. And perhaps the most socially significant project from Capra's Why We Fight series is 1944's The Negro Soldier (12:45 am/11:45c), a groundbreaking paean to African-American participation in what was still a largely segregated military. Like many in the "Five Came Back" series, it's being shown on TCM for the first time.
The other directors included in the series are John Huston (Sept. 8), John Ford (Sept 15), William Wyler (Sept. 22) and George Stevens (Sept. 29). In addition to the rarely seen documentaries, TCM will screen some of their greatest war-related feature films, including Across the Pacific, They Were Expendable, Mrs. Miniver, The Best Years of Our Lives and The Diary of Anne Frank.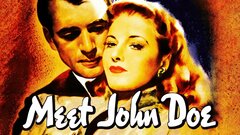 Powered by