Scene Stealer: Shakina Nayfack Throws Fabulous Shade in 'Difficult People'
Shakina Nayfack Plays
Outspoken transgender café worker Lola, whose unwarranted putdowns, unsolicited opinions and unabashed conspiracy theories make life even more difficult for actors Julie (Julie Klausner) and Billy (Billy Eichner) on Hulu's Difficult People. "Lola is such an unconventional approach to representing a trans woman—she is confrontational and bold," Nayfack says. "Trans women on TV are usually in situations engineered to elicit sympathy from the audience in an effort to generate greater empathy for trans women in general—and I really appreciate that. But Lola could give a rat's ass about sympathy."
Where You've Seen Her
Difficult People is Nayfack's first major gig. But the actress (who has an MFA and PhD from the University of California, Riverside) has been famous on the New York cabaret scene for years. In 2014, she founded the Musical Theatre Factory, a major volunteer organization that fosters new talent by hooking them up with old hats (like Difficult People costar and Broadway vet Derrick Baskin, with Nayfack, above).
Why We Love Her
Any good actress can pull off a hurtful dig. But Nayfack gives waitress Lola a casually imposing presence and flippantly deadpan delivery that throw serious (and seriously funny) lowdown, dirty shade. You don't want to get on her bad side.
Water For Elephants
Off screen, Nayfack's new one-woman show examines the trip she took to her gender confirmation surgery in Thailand, which included a stop at an elephant sanctuary. "Elephants in Southeast Asia are put through a lot of abuse," Nayfack says. "I wanted the last of my male-bodied energy to be spent in their service. For a week I got up at 5am, chopped down banana trees, prepared their food, bathed them—and shoveled their dung."
Difficult People, Tuesdays, Hulu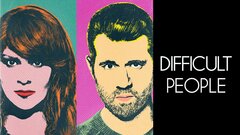 Powered by