Discovery Sets Premiere Date for Season 5 of 'Bering Sea Gold'
Discovery Channel is once again mining for ratings gold.
Bering Sea Gold, one of the network's most-watched shows, returns for its fifth season on Friday, Sept. 4 at 9/8c.
Contributing to the drama this season, the show's miners now must scramble to turn a profit in less than a month, as new regulations have shortened the winter mining season.
Other highlights include the first all-female gold dredging team, as organized by dredge owner Emily Riedel, while another crew, led by Sean "Mr. Gold" Pomrenke, takes a risk by trying to find gold on a remote claim.
RELATED: Discovery Announces "Shweekend" Shark Specials
Here's a quick round up of the ice season crews, as recapped by Discovery:
The Bluff: "Coming off of a thousand-ounce summer season, Shawn Pomrenke is looking to break some new ground. He's rolling the dice and looking towards The Bluff, a remote claim one hundred miles outside Nome. All of Shawn's mining and survival skills will be tested during the harsh Nome winter—especially in order to convince father Steve that this is the right move."
The Clark: "This season, The Clark reunites once former love interests turned rivals Emily Riedel and Zeke Tenhoff. With Emily in need of Zeke's dredging permit and Zeke in need of a crew, the two are looking to set up a "strictly business" partnership. Emily is also looking to change the game this season by bringing on an all-girl crew."
The Wild Ranger: "After years of disappointment, Vernon and his Wild Ranger crew ran away with the gold count title last winter, and now he's looking to cement his reputation as a top-notch dredge operator. This season, Vernon's got a plan that, if successful, could change mining in Nome forever. Being on the cutting-edge is pricey, and Vernon is putting every last dime in unproven, new technology."
The Paddy Wagon: "After years of working Nome, Kris Kelly has finally set out on his own to prove he can make it in the Bering Sea. Along with his little brother, Andy, Kris will attempt to show his dad that he should have always been in charge. Now combine a new operation with his volatile relationship with his brother, and Kris is in for a challenge before he even hits the water."
Bering Sea Gold is produced by Original Productions, which is also behind Discovery's Deadliest Catch.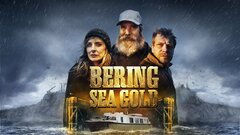 Powered by