Princes William and Harry Revisit Their Mother's Death in 'Diana, 7 Days'
Prince William, Duke of Cambridge, and Prince Harry will appear in their first and only on-camera interview about the week following their mother's death in NBC's upcoming documentary Diana, 7 Days. The royal brothers will share their first reactions to the news of their mother's death, memories of public mourning, personal stories of their mother and what she meant to them then and now.
"Part of the reason why Harry and I want to do this is because we feel we owe it to her … I think an element of it is feeling like we let her down when we were younger. We couldn't protect her. We feel we at least owe her 20 years on to stand up for her name and remind everybody of the character and person that she was. Do our duties as sons in protecting her," Prince William says in the two-hour special.
Many others will speak for the first time on camera about that week, including family members, close friends, political figures and journalists, including former British Prime Minister Tony Blair and Diana's brother Earl Spencer.
"It was amazing that our mother had such a huge effect on so many people," Prince Harry says in the documentary, reflecting on his mother's influence. "20 years on seems like a good time to remind people of the difference that she made, not just to the Royal Family but also to the world."
Diana, 7 Days, Friday, Sept. 1, 8/7c, NBC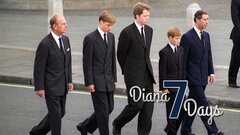 Powered by