Matthew Lawrence Returns to 'Girl Meets World' as Jack Hunter (VIDEO)
So no one told Jack Hunter that life was going to be full of tough decisions…
And based on this exclusive clip from this Friday's episode of Girl Meets World—which features guest star Matthew Lawrence reprising his role as Shawn Hunter's older, half brother—it appears that he's had to learn a few of life's hard knocks. Lucky for him, he can still count on his old friend (and current senatorial candidate) Eric Matthews (Will Friedle) for help.
The latest episode of the Emmy-nominated series (for Outstanding Children's Program) also sees Riley Matthews (Rowan Blanchard) faced with a big decision: choosing to attend a semi-formal dance with a classmate named Charlie or with longtime-crush Lucas. Hopefully she'll be able to make a decision soon, as the Australian indie pop band Sheppard will also guest star and perform at the dance.
Watch the clip, and then catch Girl Meets World on Friday, 8:30/7:30c, Disney Channel.
[jwplatform DeB2nx7M]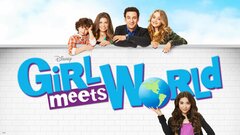 Powered by