Tobias Whale to Challenge 'Black Lightning' as New Villain
Black Lightning's heroic Jefferson Pierce (Cress Williams) finally has his adversary and the new villain is going to take Pierce's fictional city of Freeland by storm.
Warner Bros. announced Thursday the casting of rapper Marvin "Krondon" Jones III as Tobias Whale, described as "an African-American man with albinism [who] is the leader of Freeland's most feared gang — The 100."

In Lighting's DC Comics mythology, the onetime politician murdered Pierce's father for exposing his corrupt ways before going into exile underground. Now a violent and unforgiving crime lord, expect to see Whale blow his lid once Black Lightning steps out of retirement in the season premiere.
Jones is best known to music fans as Krondon, the frontman of Strong Arm Steady, a collective of rappers from the West Coast hip-hop scene. He's also a solo rapper and recently released the independent project Everything's Nothing. Albinistic like his character, Jones will be a series regular and already has a fan in executive producer Salim Akil.
"I was excited about Krondon when I saw his audition," Akil said in a statement. "His authentic street sensibility along with an insightful intelligence is perfect for the Tobias character arc. Not to mention his regal physical bearing will be additive to making our show exciting and different."
Black Lightning is set to premiere at mid-season on The CW.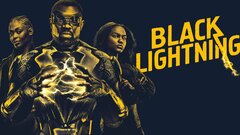 Powered by