First Look: 'Girls' Alum Andrew Rannells Digs Up Trouble in 'The Knick' (PHOTO)
If he builds it, will they come? Girls star Andrew Rannells joins season 2 of the Cinemax drama as Frazier H. Wingo, a renowned architect hired to design the New Knickerbocker Hospital.
Wingo has the difficult task of working with the Knick's crooked Superintendent, Herman Barrow (Jeremy Bobb). Rannells (second from left) was "chosen for both his strength and the vulnerability we knew he'd bring when Wingo is confronted by New York City's more corrupt characters," says executive producer Jack Amiel.
The character "Wingo must play a tricky balance-of-power game, [and be] credible when firm, believable when intimidated. He also needs a quiet menace that makes him seem dangerous if pushed too far." When casting the role, "Rannells gave us all that and more. Also, he looks dynamite in a Homburg hat, so what's not to love?"
The Knick, Season premiere, Friday, October 16, 10/9c, Cinemax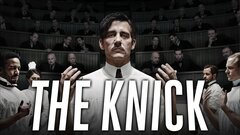 Powered by