Katie Holmes Turns the "Paige" on Revenge in 'Ray Donovan'
She Plays Ray Donovan's Paige Finney, a ruthless sports agent so determined to build a football stadium in L.A. and bring the city an NFL team that she shtups the governor of California to make sure it happens. "Paige is one complicated businesswoman," Holmes says. "Just when you think you know her, she reveals another side…and another and another." Though it was Paige's megamogul daddy, Andrew (Ian McShane), who hired Ray (Liev Schreiber) to do the family's dirty work, Paige has sneakily worked a side deal with the Hollywood fixer to make her NFL dreams come true—for a tasty piece of the pie, of course. It's all part of her revenge plan. Prone to crippling migraines, "Paige is fueled by the rage she feels over a secret involving her father," executive producer David Hollander says. That secret is revealed in this week's episode—and it's freaky-deaky indeed!
Where You've Seen Her Aside from every tabloid in the world? Holmes (aka the third ex-Mrs. Tom Cruise) was still acting in high school musicals in her hometown of Toledo, Ohio, when she landed the part that would make her an instant star—sweetheart tomboy Joey Potter on Dawson's Creek. Other top roles include Bruce Wayne's gal pal Rachel Dawes in Batman Begins and Jackie Kennedy in the controversial Reelz miniseries The Kennedys.
RELATED: Quick Take With Liev Schreiber (VIDEO) | Liev Schreiber on the Fixer's Future
Why We Love Her It's not that Holmes hasn't played fast and loose before—she was quite a trip as Greg Kinnear's slutty fiancée in The Gift—but she is on fire as Paige, delivering a performance that's toxic and unnerving one moment, achingly poignant the next. It just might bring her some Emmy and Golden Globe love. Was Holmes looking to shake up her image this way? "Not necessarily," she says. "I believe things come to you when you're ready for them." And she was ready. "I've been a huge Ray Donovan fan since the show started. It's a window into the dark side of Hollywood that makes you wonder, 'Wow, are people really like this?' The characters are incredible—not that you'd want to have any of them over for dinner."
Girl With The Grill While Paige is often in need of a hairbrush ("That's a little hint of her wild side," Holmes says), the character is always immaculately, elegantly dressed. So what's with the braces on her teeth? According to Hollander, the gangsta grill isn't intended to show Paige's toughness but rather her childlike vulnerability. "That was my biggest challenge," Holmes says with a laugh. "I used a retainer, and it was always slipping out when I'd say my lines. I ruined a lot of good takes."
Ray Donovan, Sundays, 9/8c, Showtime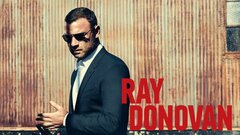 Powered by