What's On: 'Baroness Von Sketch Show,' 'Broadchurch,' 'The Lowe Files,' 'The Sinner'
Baroness Von Sketch Show (10/9c, IFC): From the land that gave us such comic treasures as SCTV and The Kids in the Hall comes a new blast of inspired Canadian clowning, refreshingly led by an all-woman ensemble (Aurora Browne, Jennifer Whalen, Meredith MacNeill and Carolyn Taylor) who take sharp, silly aim at modern social anxieties: in a doctor's office, at a coffee shop and, in what seems to be a running gag, trying on unflattering jeans. Favoring quick-hit blackouts and physical humor, the Baroness troupe scores more than misses in its anything-for-a-laugh zeal, and much of the humor crosses gender lines, as in a gym catering over-forties: "Welcome to not giving a s—." Well played, ladies.
Broadchurch (10/9c, BBC America): A new week, another prime suspect looking more suspicious, as a tricky case gets even more complicated for Hardy (David Tennant) and Miller (Olivia Colman) when one of their own reveals a secret that hits way too close to home. In the most wrenching subplot, grieving father Mark Latimer (Andrew Buchan) tracks down an exiled Joe Miller (Matthew Gravelle) and learns that emotional closure may not be possible for anyone affected by his son's death.
The Lowe Files (10/9c, A&E): What a fun dad Rob Lowe must be. In a new reality series, he takes his sons Matthew and John Owen on a family road trip, investigating paranormal legends. They begin with California's Preston Castle, a condemned boys' reformatory rumored to be haunted by vengeful spirits. When things get really spooky, let's hope they remember the mantra: What Would Mulder & Scully Do?
The Sinner (10/9c, USA Network): Jessica Biel bares a very bleak soul in this dark eight-episode psychological drama, about a wife and mother who commits an inexplicable and horrific crime in public view, prompting a detective (Bill Pullman) with his own demons to investigate what trauma could have possessed her to do such a thing. Looking for escapist fare? Look elsewhere.
Inside Wednesday TV: It's double the sci-fi intrigue with back-to-back episodes of CBS's Salvation (9/8c), and as the doomsday clock counts down, Liam (Charlie Rowe) learns who's been selling secrets to the Russians. Is there even time left for sanctions? … In the midseason finale of OWN's Queen Sugar (10/9c), several relationships hit turning points, with Charley (Dawn-Lyen Gardner) revealing her feelings for Remy (Dondré T. Whitfield) and Ralph Angel (Kofi Siriboe) taking a big step with Darla (Bianca Lawson). … A Twitter feud ends in disaster on TV Land's Younger (10/9c). … With so much material coming out of the White House lately, TBS's Full Frontal With Samantha Bee (10:30/9:30c) might consider expanding to a full hour.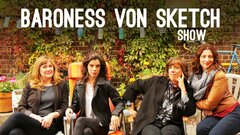 Powered by