'Be Cool Scooby-Doo!': Meet the Modernized Mystery Inc. Sleuths
Gas up the psychedelic van: Scooby­-Doo, Shaggy, and the Mystery Inc. gang are hitting the road once again to take down masked bad guys and supernatural spooks. By now, the amateur teen sleuths and their Great Dane should have plenty of practice at it: Boomerang's Be Cool Scooby-Doo! marks the 12th incarnation of the famous franchise since its 1969 premiere. The latest edition aims to pay homage to the original—although it's set in present times, the characters' iconic outfits remain unchanged—while giving a considerable nod to today's sophisticated TV audience. "We're keeping all those core elements of Scooby-Doo! that we know and love—five characters driving around in the Mystery Machine, solving mysteries—but contemporizing the humor," producer Zac Moncrief says. "We're hoping to give it the flavor of a current sitcom." Break out the Scooby snacks and get reacquainted with the old gang.
SCOOBY-DOO (voiced by Frank Welker)
If it ain't (house)broken, don't fix it! Shaggy's lifelong companion is as loyal and lovable as ever—although the talking hound will be uttering those goofy "ruh-rohs" sparingly. "We keep him to four, maybe five words max per episode," Moncrief says. "It's a fun limitation because it forces him to be sharper and quicker."
NORVILLE "SHAGGY" ROGERS (voiced by Matthew Lillard)
Surprise: The crew's resident slacker actually made it through high school! (In the premiere, we'll learn that he and the others are celebrating their recent graduations with a road trip.) While he may not be in MENSA, says Moncrief, "we have pulled out that Marx Brothers humor buried deep inside and made him a little wittier." But does he harbor any aspirations beyond being nominated as monster bait? Says Moncrief, "As far as college for Shaggy, I have no idea!"
DAPHNE BLAKE (voiced by Grey Griffin)
She's more than just a minidress! "In the past, Daphne has been the pretty girl who comes from money, and that's all we really knew," Moncrief says. The updated version makes light of her sheltered upbringing, infusing her with naïveté and quirky personality to spare. "In one episode, we have her sporting a beard and mustache just for the hell of it," says Moncrief. "Fred asks her, 'Why do you have a beard?' and she's like, 'Why don't you have a beard?'"
FRED JONES (voiced by Frank Welker)
Looks like someone's ascot is tied a little too tight! Historically the most take-charge member of the group, the Fred of 2015 learns that it can be lonely at the top. "Since Fred's always been the leader, we decided to give him control issues," Moncrief says. "As the rest of the characters become crazier and more eccentric, he's constantly trying to keep them focused and on task."
VELMA DINKLEY (voiced by Kate Micucci)
She's still the brainiest of the bunch—there's a crack about how colleges applied to her—but Velma 12.0 has kinks to go with that IQ. "Her social graces are not very strong. She's kind of socially tone-deaf," Moncrief says. She'll find other ways to communicate, like doling out the details of each case via something called Velma's Mind's Eye. "We pop in a creative illustration of whatever she's telling us," Moncrief says. "It's new every time." Jinkies!
Be Cool Scooby-Doo!, Coming soon, Boomerang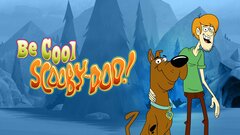 Powered by