Rainn Wilson Alien Drama Tops AMC's Development Slate
The Television Critics Association summer press tour wrapped up its cable portion Saturday with news out of AMC, which unleashed a deluge of production developments of the scripted and non-scripted varieties.
On the heels of the previously announced series order for Dietland, the coming-of-age, revenge fantasy from Marti Noxon (Girlfriend's Guide to Divorce) set in the beauty industry, the cable net also has Fear the Walking Dead star Colman Domingo working on family drama called In the Middle of the Street that is inspired by his play "Dot."
Being the home of The Walking Dead, it's no surprise there's also a ton of genre material in AMC's pipeline.
Among the contenders for series orders are an untitled Rainn Wilson (The Office) drama about an alien that takes over the body of a cross-addicted San Fernando man; the B movie-inspired Shock Theatre anthology from Greg Nicotero (The Walking Dead) and two of the folks behind Fox's Rocky Horror remake, Gail Berman and Joe Earley; and Chris Hardwick's Underbelly, another anthology that explores the dark side of pop culture, fandoms and celebrity "through the lens of the horror genre."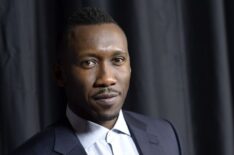 See Also
The execs also gave an update on the upcoming third season of 'True Detective.'
In addition, the Arrival team of screenwriter Eric Heisserer and short-story author Ted Chiang are collaborating on Liking What You See, a sci-fi drama about a small town filled with residents who no longer have the ability to perceive physical beauty. The Age of Miracles would be another sci-fi tale about a teen dealing with family drama and the fact that Earth's rotation is slowing down to disastrous results; and Ballad of Black Tom is a Lovecraftian story about a a Jazz age street musician who uncovers a magical realm and a conspiracy to destroy Earth as we know it.
On the unscripted front, Wicked West aims to be a weekly look at the most messed up real-life tales from the frontier, including serial killers and deadly family feuds, while the docu-series AMC Visionaries is already confirmed to debut "Robert Kirkman's Secret History of Comics," "Eli Roth's History of Horror," "Rap Yearbook" and "James Cameron's Story of Science Fiction."