Disney's 'Descendants': Costumes, Set Design and Incredible Behind-the-Scenes Secrets
https://player.waywire.com/?id=B6S6SF3GRHKYHY9B
It's a whole new world.
In the upcoming Disney Channel movie, Descendants, debuting Friday at 8/7c, the children of Disney's greatest villains get their due. The offspring of the likes of Maleficent (from Sleeping Beauty), Jafar (Aladdin), the Evil Queen (Snow White and the Seven Dwarves) and Cruella De Vil (101 Dalmations) live in exile on the decayed Isle of the Lost. But when the son of King "Beast" and Queen Belle (of Beauty and the Beast) offer the teens a chance for redemption, they get to explore a far sunnier land, Auradon, where heroes' kids attend prep school.
In the exclusive new featurette above, production designer Mark Hofeling walks us through how he created the two lands and designer Kara Saun (who Project Runway fans will remember from Season 1), shares insight on her costumes and color palette.
Now take a deeper look at the photos below and discover the details that went into the making of these new worlds, from costume sketches to colorful sets.
Each of the teens in the movie don an outfit reminiscent of their parent's iconic look. This sketch for the character Mal features the hues of her mother, Maleficent. The costume was designed by Saun, who led teams in Los Angeles and Vancouver to create custom, handmade pieces.
These designs of Evie's look clearly reflect her mother, the Evil Queen. More than 1,000 costumes were created for Descendants, with many artists dedicated to exclusively painting, dyeing, studding, and distressing the garments.
---
Look closely at the fridge in Mal's home and you'll notice a to-do list. Maleficent's tasks include to "menace, intimidate, smolder, call the guy about rain gutters, plot, scheme, put EQ (the Evil Queen) in her place, rage, threaten, have Jafar try to adjust the antenna again, make Mal mess up her room, slam the door, do something about that blasted bill board, not dust, practice random unkindness."
The art department took on the monumental task of creating every piece of graphic material you see in the movie, including the small details in the background, such as fliers on bulletin boards and trash on the ground.
In the film, the villains have been isolated to the Isle of the Lost where they are powerless, so production designer Mark Hofeling wanted everything covered with "20 years of dust and grime."
Saun said Hofeling envisioned a color palette invoking "dirty candy."
To create the Isle of the Lost, the production team conducted a study of the colors surrounding evil characters in classic Disney films, like deep black, purple, burgundy and acid green.
Many of the scenes that take place at Auradon Prep were shot at Hatley Castle, featuring 667 acres of land.
Descendants, Friday, July 31, 8/7c, Disney Channel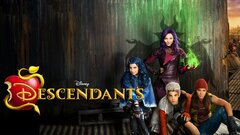 Powered by