What's Worth Watching: The Votes Are In-Sane!
Veep, "Election Night" (Sunday, June 14, 10:30/9:30c, HBO)
As usual, you can count on Selina Meyer to rise to the occasion when the chips are (also as usual) down. "If I do lose, I'm going to lose like a winner," the accidental president quips, squirming in her Baltimore Marriott hotel suite as unpromising results begin to pour in on the election-night finale of Veep's spectacularly funny fourth season. In the role that has won her three consecutive Emmys for comedy actress (joining those she won for Seinfeld and The New Adventures of Old Christine), Julia Louis-Dreyfus is a profane whirlwind of comical mood swings. However this election turns out, she remains the Emmy front-runner.
While the former veep and her acolytes (including an inspired Hugh Laurie as her opportunistically charming running mate) react to each projection with extremes of euphoria or self-serving despair, former colleagues Amy (Anna Chlumsky) and Dan (Reid Scott) give cable-news punditry a go, with predictably awkward results. They share a dais with a smug statistician (obviously patterned on an unflattering version of Nate Silver) who is continually stymied by the way things play out. "There's never been an election like this," declares a talking head as Veep goes where no presidential election has gone before, brilliantly setting up a fifth season that can't get here soon enough. Same goes for Veep's companion series Silicon Valley, with its own Sunday finale full of breathtaking reversals, grounded in hilarious character. Together, they make the year's best back-to-back comedy block. Nothing comes close.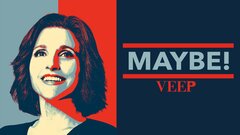 Veep
where to stream
Powered by